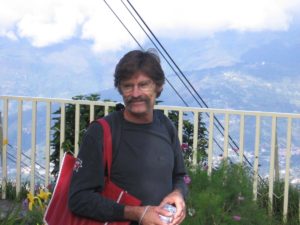 Clifton Ross has been reporting on Latin American social and revolutionary movements since 1982. For the past decade he's been traveling to and fro in Latin America doing interviews for the book Until the Rulers Obey: Voices from Latin American Social Movements.
Clif worked as a translator for the Guatemalan news agency CERIGUA in Managua, Nicaragua in 1986, and he has continued working sporadically as a translator. His books of translations include Light and Truth: Manifestos and Interviews on Spirituality and Politics, by General Augusto Cesar Sandino (1984, CO-Press); A Dream Made of Stars: A Bilingual Anthology of Nicaraguan Poetry (1986, CO-Press); Quetzalcóatl, by Ernesto Cardenal (1990 New Earth Press; 1994 Stride Publications); and Voice of Fire: Interviews and Communiqués from the Zapatista National Liberation Army (1994, New Earth Publications), co-edited with Ben Clarke. Voice of Fire was the first collection of EZLN material to appear in English. Clif's translations of poetry from Spanish have appeared in a number of publications and online sites including Americas Review, Sniper Logic, and The Underground Forest.
A sampling of Clif's poetry appeared in the collection, When Good Dogs Have Bad Dreams: Four American Poets (Stride Publications, UK, 1996) and his collection of interviews with the poet William Everson appeared the same year in the UK with the same publisher in book form as William Everson: The Light the Shadow Casts (reprinted in 2012 by Freedom Voices Publications in honor of the centenary of the poet's birth).
In 2005 Clif represented the U.S. in Venezuela's World Poetry Festival, along with Genny Lim. From 2005-2006 he reported from Mérida, Venezuela and began work on his movie, Venezuela: Revolution from the Inside Out, which was issued by PM Press in Oakland, California in May 2008. Clif's book, Fables for an Open Field (1994, Trombone Press, New Earth Publications), was released in Spanish by La Casa Tomada of Venezuela in 2006. His book of poetry, Translations from Silence, won Oakland PEN's Josephine Miles Award in 2010. That book was published in Spanish in 2011 by the Venezuelan Ministry of Culture's Editorial Perro y Rana under the title Traducciones del Silencio.
In 1997 Clif completed work on his BA in Creative Writing at San Francisco State University (SFSU) and he went on to get his MA in English at SFSU in 2003. He lives in Berkeley, CA with his wife, Marcy Rein, and their two cats.