William Everson: The Light the Shadow Casts
Selected Everson Poems and Five Interviews by Clifton Ross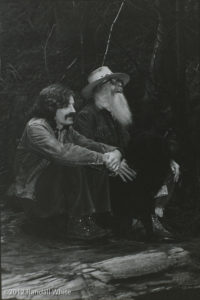 In this collection of interviews with one of the central poets of the San Francisco Literary Renaissance (which preceded the Beat movement) William Everson/Brother Antoninus ponders the mystical dimensions of poetry. The interviews span the final fifteen years of his life and contain his final thoughts on the prophetic, the shamanistic and the aesthetic dimensions of his craft, as well as his own life, characterized by the Portuguese proverb that "God writes straight with crooked lines." The interviews, accompanied by selected poems, were conducted, edited and introduced by Clifton Ross and were first published two years after the poets death by Stride Publications, UK, republished by Freedom Voices to honor the centennial of the poet's birth. 
Quetzalcoatl
Ernesto Cardenal
Translated by Clifton Ross.
A bilingual edition of a book-length award-winning poem by the militant Roman Catholic priest who was Nicaragua's Sandinista Minister of culture for nearly 11 years. Through 52 poetic fragments, Ernesto Cardenal articulates a multiple vision, constantly constellated by myth that has always been one of the most effective mechanisms of his poetic creation.
A collection of fables and prose-poems by Berkeley writer, translator and printer Clifton Ross. Dr. David Daube, of U.C. Berkeley's Boalt Hall School of Law, says, "This marvelous collection is among the most beautiful I've read…beautifully written as well as full of great wisdom." Illustrated by the Berkeley fine artist, mother and educator, Deborah Green
A Dream Made of Stars: A Bilingual Anthology of Nicaraguan Poetry
Berkely: Co-Press, 1986.
Sandino
Augusto C. Light and Truth. Berkeley: Co-Press, 1984.
Voice of Fire: Communiques and Interview of the Zapatista National Liberation Army
San Francisco: Freedom Voices Publications, 2000
Even Good Dogs Have Bad Dreams: Four American Poets
UK: Stride Publications, 1996.