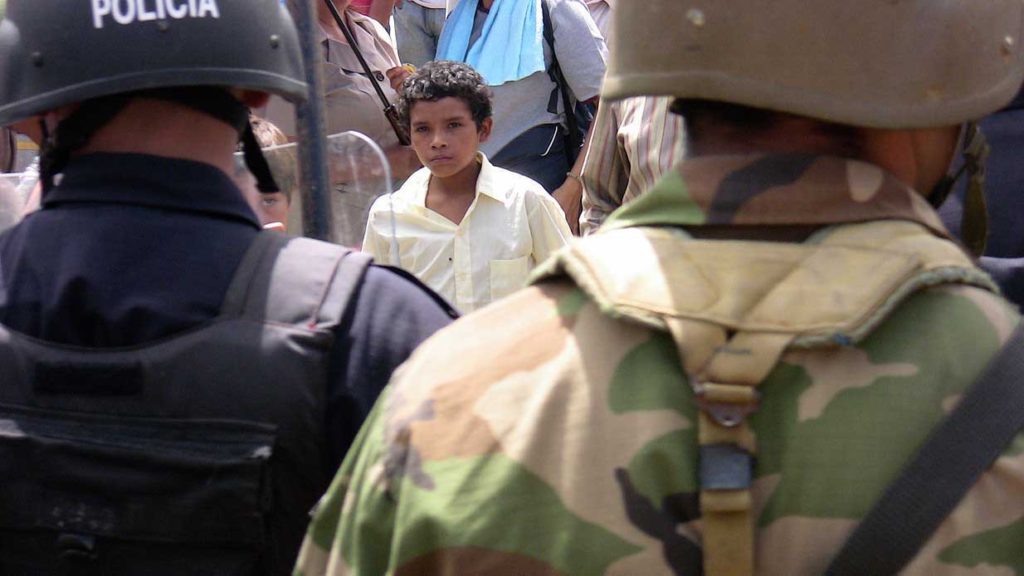 Full article from Counterpunch
Welcome to the blog page of my website! I plan to post here weekly (or more, if I happen to be in active mode). I won't talk\ about my cat, what I had for breakfast, or any of those other things that pass for daily experience but aren't worth sharing with anyone but myself and God (or god). What concerns me at the moment is the slowly unraveling Bolivarian process in Venezuela. It's a complex and complicated process and one that many on the socialist/communist left have put their hopes in, but it's going terribly wrong and, I would argue, has been going that way for a long time, as in "where are we going and why are we in this handbasket."
 I'm sure you'll find much of what's going on down there echoing what's going on up here with Obama (or maybe you won't, but I certainly do).  It's certainly a lesson for us to contemplate long and hard as we consider the need to change our direction from going south with Savage Capitalism to heading north with a new economic and political model.  I've been doing a lot of reading and thinking about all this over the past few years and I'll be writing about that here. 
I suppose the reason I started this blog and website is because a couple of websites where I had been publishing for the past seven or eight years (www.dissidentvoice.org and www.counterpunch.org) apparently have decided they don't want to hear any criticism of the Bolivarians. In the case of dissidentvoice, Gregory Wilpert wrote an email to them suggesting that they should drop me. They did. In their way. And so when I tried to publish the next article (you can find it here ), they had a page or so of objections. I dealt with that set of objections, and then they had more. At that point, I figured they were making it too difficult for me to GIVE THEM MY WRITING.
Counterpunch, to their credit, allowed me to publish my piece at their site, and then allowed Roger Harris,  President of the Task Force on the Americas, to respond, which he did, here. You might note a few differences between us, and you also might note that he offers no supporting links to verify his claims and I had, well, a few. I had even more in my response to his piece, which counterpunch chose not to print. For that reason I'm publishing it here. More to come. Please note: I wrote this article and sent it to www.counterpunch.org on August 2, 2013. It is therefore dated: things are now much worse. I'll be writing about that soon and publishing where I can. Any suggestions for possible venues would be appreciated.
Potemkin Venezuela: The Revolution without a Revolution
by Clifton Ross
A Reply to Roger Harris
             First of all, I'd like to thank Roger Harris for taking up my call for a dialogue on the Bolivarian process of Venezuela.  In his response to my article he made some excellent points, and some others I feel need to be addressed as North Americans seek to understand exactly what's going on in Venezuela and how they might best support the Venezuelan people.
            I believe Roger Harris and I would both agree that if we compare the United States government's policies to those of the Bolivarian government of Venezuela, the latter would stand miles taller than the former by almost any indicator of what is generally defined as humane and humanistic. Indeed, it would sully the reputation of Venezuela even to make such a comparison with the degenerate, criminal, genocidal, government of the United States. Anyone doubting this need only refer to the two-volume "primer" on the subject, The Washington Connection and Third World Fascism by Noam Chomsky and Edward Herman, or Killing Hope by William Blum or just do a few searches online for articles like this one.
            Given that agreement, Harris and I would also agree that any interference on the part of the United States government in the internal affairs of Venezuela is entirely inappropriate, wrong, and must be opposed by the people of the world – especially the people of the United States.
            The issue then, is whether or not those who consider themselves left anti-capitalists in solidarity with the people of Venezuela should support the government of Venezuela. On this point, it appears, Roger Harris and I disagree. However, he mischaracterizes my position on a number of points, something I feel needs to be corrected.
            First, I am not a "former Chavista:" I am an anti-capitalist, anti-imperialist libertarian, democratic socialist who critically supported the Bolivarian process from 2004 until this year. I ceased supporting the Bolivarians not out of "agnostic angst," as Harris would have it, but because of what I discovered as I began to delve deeper into my research on the history and development of Venezuela and the Bolivarian process under Hugo Chávez and what I encountered as I spent a month in the country between April 15th and mid May of this year interviewing Bolivarians and members of the opposition, in particular, focusing on the situation of workers in the Basic Industries of Guayana in the city of Puerto Ordaz, Bolívar State.
            Furthermore, Harris says I'm "concerned about the contagion of state power" and goes on to say "None of the 21stcentury socialist governments in Latin America pass his muster. All or corrupt, authoritarian and going in the wrong direction in his view." This a paragraph that I'd like to deal with in some length, because it contains several assumptions about me and the current situation of Latin America that I consider to be inaccurate and incorrect. I'd also like to briefly touch a number of other points he raises, focusing in particular on the situation of workers in the country he calls "the second happiest country in Latin America," Venezuela.
            First of all, I'm not "concerned about the contagion of state power" but the subjection of autonomous social movements to capitalist states – in this case, of the US solidarity movement to an uncritical stance of support for what I maintain is the capitalist government of Bolivarian Venezuela. Harris calls my criticism of the Venezuelan government "ill timed" and my argument "flimsy and one sided," and here I have two objections: Would Harris ever consider there to be a "right" time to criticize the Bolivarian government? I suspect not. I suspect that he considers it inappropriate at any time to criticize the Bolivarian government. But why not now, as it enters a crisis from which it might not recover? Isn't that the perfect time to criticize, in hopes of correcting a situation before it gets completely out of hand?
As for a "flimsy" argument, which of my sources would he like to contest, and what evidence will he offer to prove it wrong? There are no citations for any of the claims in his article, making all of them impossible to verify: I count sixteen references in mine. He's welcomed to argue with them. In fact, it would delight me, even if it would also humble me (and who in our culture isn't in need of greater humility?) if Mr. Harris were to be able to refute my arguments specifically by providing explanations and facts that could be verified.
            Unfortunately, Harris's response has done little in this regard. Instead, he stuck with the official narrative of the Bolivarian left and their allies, that the Bolivarian "Revolution" is under siege (quoting from Harris) by "local oligarchs" and an Obama administration that is "escalating its hostility towards the government." Presumably, this hostility and "trying to create socialism on the foundations of capitalism" is the cause of the current economic problems, the shortages, the inflation, and all the other problems which, according to Harris, "Maduro is working on…"
            I think I dealt with the claims, in my last article, that the current problems of the Venezuelan economy have little (though no doubt some) to do with the "local oligarchs" and more to do with the self-sabotaging policies of the Bolivarian government. I'll provide a bit more evidence below in my discussion of the Basic Industries of Guayana. As for the "escalating hostility," of the Obama administration, I'm not sure what Harris is talking about. Obviously, given the US government's history of genocide, terrorism, and every imaginable (and unimaginable) form of malfeasance in the region, one might expect a double dose of all that directed at the progressive governments of Latin America, and especially toward Venezuela. But most observers of the situation would agree that this is not the case – and that's certainly not because Obama isn't a president willing to commit extrajudicial murders on a moment's notice, as the drone program gives evidence.
In fact, there are no "contra" armies gathering on the border of Nicaragua against the current Sandinista regime as they did in the 1980s when the Sandinistas were first in power. There are no paramilitary death squads roaming the streets of El Salvador under the present FMLN government as they did in that same decade under the right wing, directed by the CIA, nor has the US shown any signs of unfriendliness toward that progressive government. The U.S. doesn't appear to have problems with Uruguay where a former Tupamaro guerrilla is in power, and even Bolivia and Ecuador, despite some unilateral acts on the part of those governments (such as shutting down the Manta Air base in Ecuador, and Bolivia's expulsions of US officials) seem to have generated relatively few problems with the US. In Venezuela, despite the fact that Maduro has made multiple assertions of coup, sabotage and assassination plots, he has presented no evidence for any. And still, no "paramilitaries" have been found attacking Venezuela's borders from Colombia, nor have "Salvadoran hit squads" infiltrated the country,  bent on assassinating him, nor is there evidence that theU.S. planned to kill Capriles and blame it on Maduro, nor is there evidence that Colombian President Santos been hatching a plot with Capriles to overthrow him. All these "conspiracies," and others, are announced on a weekly or biweekly basis, and then vanish as quickly as they're asserted. This is a ploy for which Chávez became famous. As his biographers noted, "According to official sources, Chávez has others besides the anti-Castro groups who are after him: the Colombian paramilitaries, the Venezuelan far right, and his purported number one enemy, Carlos Andrés Pérez. Not one of these conspiracies, however, has ever been proven." (Marcano and Tyszka, p. 218)
Harris says that "None of the 21st century socialist governments in Latin America" pass my muster. I have to ask, where has he identified a "socialist government" in Latin America? Cuba might be considered "socialist" by some, if by that they mean the state ownership of the means of production, but many of us on the left today would consider Cuba a "state capitalist" government such as exists in China, and North Korea and once existed in the Soviet Union. The "socialism of the 21st century" is what Ludwig Wittgenstein called "language on a holiday," or what Venezuelan historian and sociologist Margarita Maya López, citing Laclau, called an "empty signifier" that is "typical of populist discourse. It was an 'empty' concept capable of unifying and mobilizing, precisely because everyone could understand it in terms of his or her own particular unsatisfied demands or aspirations." (see her essay, "Venezuela: Hugo Chávez and the Populist Left" in "The Resurgence of the Latin American Left," 2011, ed. Steven Levitsky and Kenneth M. Roberts, Johns Hopkins Press).
I would have no problem supporting a "socialist" state, if, indeed, it were socialist. But the word "socialism" must have some basic definition and that definition would have to be rigorously applied to determine whether or not a state were indeed "socialist." Taking the most common, basic definition of the word, found in my Mac's dictionary, let's agree that "socialism" means "a political and economic theory of social organization that advocates that the means of production, distribution, and exchange should be owned or regulated by the community as a whole." Could Mr. Harris please indicate which country in Latin America has a "socialist government" that fits this basic definition, or even seems vaguely close to it? As close we come to such a definition is where states, not "the community as a whole," own the capital, that is, where the governments are the capitalists, and at present, in Latin America, only Cuba fits that definition. Venezuela has taken steps to nationalize some industries, and, as we'll see later, with disastrous results for the country.
To respond, then, to the charge that these governments don't "pass my muster," it's true: they don't even fit a dictionary definition of the word "socialism." In fact, I don't support the governments of Latin America because they are capitalist, and not socialist.
Those of us who are committed to the destruction of the capitalist system and the construction of an alternative should, I believe, maintain a high standard for a government that purports to be "revolutionary" and "socialist" to receive our support and solidarity. We can't take it simply at its word but investigate critically and with an open, but skeptical, mind to see whether its practice matches its rhetoric. We have to learn the lesson so painfully learned by the communists of the 20thcentury who uncritically supported Stalin and really believed him when he declared in 1934 that the USSR had "attained communism." Or those who supported Mao. Or Pol Pot…
We also need to ask ourselves whether, as anti-capitalists, we want to be identified, in solidarity, with capitalist governments of any kind, be they "progressive," or nationalist governments of reform. Certainly we need to defend such governments from attack by the empire since we recognize that rarely, if ever, can any good come from imperialist interventions, regardless of how the argument is framed. And we can support humane reforms, progressive legislation, radical agendas, alternative projects of capitalist governments, but that's a very different stance from solidarity with the governments themselves. Progressive capitalist governments of reform are still capitalist and operate according to that logic.
            Let me make clear also that I am not an anarchist, although I have fewer problems with that ideological position than I do with the state capitalist, "socialist," position as it has often been uncritically propagated up to the present day. I am not opposing these governments, but criticizing them. The only government I actively oppose is my own government when it opposes those governments.  I leave it to the people of the nations of Latin America to determine the degree that they are capable of pushing reforms in countries with progressive capitalist governments toward a systemic enantiadromia (transformation from capitalism to an anti-capitalist system).
I believe a solidarity movement can best support the people and their movements by joining our critical voice to theirs, always with the clarity that our objective here at home is to continue and push for the destruction of the empire that wishes to keep the capitalist system in place. And I further maintain that since the end of the dictatorships in Latin America (spanning the years of roughly 1954-1990), the empire has settled on progressive capitalist governments of reform as the best option for maintaining the capitalist system as a whole. In fact, I don't accept Harris's thesis that the "Bolivarian revolution (sic) is considered a major threat by the US empire." I find this claim laughable, but Harris puts it forth in all seriousness, it appears, even if he, again, makes the claim without providing any evidence.
This is not to say there aren't fanatics in the US government that make the Taliban look liberal, nor that there aren't those who wax nostalgic for the likes of Pinochet and Videla and Stroessner and other dictators of the days of yore. Nevertheless, the U.S., as William Robinson and others have noted, turned away from dictatorships as its preference in puppet governments and took up "democracy promotion" in the late eighties. The first fruit of its work was the defeat of Pinochet and the victory of the "left" Convergence under Ricardo Lagos in Chile in 1990.
This is a theme that particularly interests the Uruguayan journalist, Raul Zibechi. He notes that while the progressive governments of Latin America, the so-called "Pink Tide" governments, have certainly brought many social benefits to poor and marginalized communities, they have also been the "main problem confronting the social movements." As he explained in a conversation Marcy Rein and I had with him last year in his home in Montevideo, and as he outlines in his books "La Politica y Miseria" and "Progre-Sismo," among others, the governments of the region are following a script written by Robert McNamara, the architect of the Vietnam war and former president of the World Bank. "You see, when international capital used the cheap workers of Latin America in maquiladoras and factories, it required dictatorships to repress labor. Now that the factories have closed and gone to China and elsewhere, international capital has gone back to simply extracting prime materials, and to do that it needs progressive governments." Even a casual observer of Latin American reality will note this dramatic transition in the regional economies. And Venezuela fits this profile perfectly, even if Zibechi seems by some to be hesitant to apply his critique to Venezuela's Bolivarian process.
 I'm critical of the progressive capitalist governments of Latin America  because I believe that the progressive governments are moving in directions that I don't think will benefit them or the people they represent in the long term: extractivism and export of prime materials are regressive policies, and they represent the core of Latin American economies at present. I am certainly not alone in my concern over the fact that the progressive governments are increasing welfare programs at the same time that they are allowing the destruction of their national environments and further undermining their nations' abilities to develop more sustainable policies in the future. My concern is shared by members of social movements throughout Latin America with whom I have met and who I have interviewed over the past ten years.
Venezuela: The Revolution without a Revolution
Harris and I can agree that the Chavez government distributed land, eliminated illiteracy, brought in food programs for the poor, among many other things. These were some of the reasons I also gave my support to the Bolivarian project for many years and perhaps why I overlooked the problems in that process.  I agree that these are laudable achievements, and yet each one is problematic in ways that it would require more space, attention and energy than would be possible to offer in this present article.
Nevertheless, I have some general concerns with the economic programs the Bolivarian government has undertaken in Venezuela over the past fourteen years, concerns that go beyond the fact that they have been funded by the worst sort of extractive industry, one that threatens to destroy the planet: oil. Here I'd like to focus on two aspects of the social programs undertaken by Chávez and the Bolivarian government.
 First, the programs known as the "Missions" lack long-term, sustainable objectives for the development of the nation's economy (endogenous development) and, I would argue, that by design.  As I wrote in my last article for Counterpunch, the productive infrastructure of Venezuela has dramatically declined under the Bolivarian government even as more Missions are brought on line each electoral season in what was apparently a conscious attempt on the part of Chávez to gain votes and popular support (see Cristina Marcano and Alberto Barrera Tyszka, Hugo Chávez: The Definitive Biography of Venezuela's Controversial President, 2007, Random House, page 270). In other words, the handouts and social welfare programs might feed people as long as PDVSA draws oil out of the ground or the government is able to borrow from China, but the Bolivarian government has implemented no effective plan in its 14 years of power for developing a socialist economy, or even a functional, productive national economy, in anything other than name. The Missions, therefore, are what their name implies: social welfare projects and handouts that offer limited possibilities to their target population to exercise skills, knowledge and resources acquired because the government hasn't invested in the resources necessary to develop the internal economy (endogenous development). As Raul Zibechi would say, they "problematize poverty, but the real problem is wealth." The Bolivarian process is following McNamara and LBJ's script for the "War on Poverty" almost to the letter when it should be conducting a "War on Wealth."
Nevertheless, earlier in the process, many (including myself) had hopes that these programs would begin the process of "endogenous development" and maybe more, but the more cautious reserved judgement. Steve Ellner raised concerns about where these programs were headed in my film, speaking of the cooperatives, saying "there are two possibilities: that these cooperatives and other experimental economic structures are designed to alleviate poverty, that they're basically social programs, and the other possibility is that they represent seeds to a new society and structures that are economically viable…" That interview was conducted in January 2006 when there was great hope that the cooperatives would, indeed, be the "seeds" of a new socialist society. However, by 2008 and thereafter (just as my film was being released) it became clear to most honest observers, and generally acknowledged in Venezuela even by the Bolivarians, that the cooperatives were failing.  
By 2007 Chavez began to put into effect his "Plan B." He began to promote "co-gestion" (co-management between workers and management) and nationalization of larger industries as a way to build the "Socialism of the 21st Century." It soon became clear to many, especially to those working in the Basic Industries of Guayana, that these nationalized industries were failing due to irresponsible, corrupt and incompetent management as Chávez filled management posts with party loyalists, most of whom knew nothing of managing a business, nor anything of the industry which had been put under their charge. For those who don't know Spanish, the charts alone tell the story: production was beginning to drop even before 2010, and presently those industries in Guayana, and most nationalized industries and businesses, are all subsidized by PDVSA money.
Nevertheless, with production down to one third or even one quarter of the levels before nationalization, these industries are doubling and even tripling their work force. Emilio Campos, Secretary General of Sutracarbonorca, the union representing Carbonorca workers, told me in a May 2, 2013 interview that Carbonorca, which before nationalization produced 152,000 tons of carbon anodes for aluminum smelters, in 2012 was down to 54,000 tons. Nevertheless, the company's "Socialist" managers nearly doubled the workforce from approximately 450 workers to a little less than 800. Campos listed off the other industries. "Sidor went from 10,000 workers to about 14,000, with another 4,000 contractors; Bauxilum went from 1,500 to 4,000. Alcasa went from 1,600 to 5,000. Venalum with 400 cells taken out of production [of 905 total cells; see Prat, p. 92) have gone from 1,400 workers to 5,000. This is all to give the impression to the world that they [the Bolivarian government] is generating employment."
"All this while production is dropping?" I asked incredulously.
Campos nodded with a smirk on his face. "Yes. That's right. While production is dropping. It's an upside-down world here."
Leaving aside the problem that diversification of the Venezuelan economy from reliance on the extractive oil industry to simply other extractive industries (also an issue that certainly should be addressed), it seems that the question Dr. Ellner raised to me in 2006 is now being answered: hiring workers and immediately putting them on indefinite leave certainly a form of social welfare programs, but are they really "designed to alleviate poverty"?  
Many in the independent unions believe that the government is attempting to "pack the work units" with its own people in order to defeat the independent unions in elections. This would fit with the program that left (socialist) Chavistas argue the government has in mind of making "every necessary effort to crush and make revolutionary union tendencies disappear that refuse to subordinate themselves to the bureaucracy of the FBT (Bolivarian Worker's Force)."
Even as welfare programs, these policies raise questions of long-term viability, especially in an economy that, at a time of record-high oil prices, the government is forced to borrow billions to manage its obligations. While much of the money borrowed has been used to finance the reelection of Chávez and now Maduro, increasingly the nation is required to borrow to pay for the Missions, the imports of food and basic commodities, as well as the bloated, unproductive public workforce Emilio Campos describes. In the third week of July this year, the Maduro government took the country five billion dollars more in debt to China after that nation had frozen all lending to Venezuela for a number of months, due to its concern that "previous 'investments' had produced nothing because none of the projects were completed [by the Venezuelan government]" (my translation of Damian Prat's post on the matter).  Nevertheless, China has quietly been appropriating power over the natural resources of Venezuela as it makes these loans, and at rock bottom prices. For instance, over a quarter of the Chinese loans are to be paid back with oil at prices that, according to one report, are sometimes set as low as $5/per barrel when the market price has been hovering around $100 per barrel! In May of this year, those "oil for loans" programs totaled eight billion US dollars.
Finally, and closely related to an earlier point, the Missions are clientelistic, populist programs, apparently designed not to raise the people from poverty, but to maintain them there. Like the PRI (Institutional Revolutionary Party) that ruled Mexico for 70 years (and is again in power), the MVR and later the PSUV under Chávez have used state money from oil to effectively buy votes at election time. As Javier Corrales and Michael Penfold put it in "Dragon in the Tropics, "aid is disbursed to some of the poor, and more gravely, in a way that ends up helping the president and his allies and cronies more than anyone else." (p.11, itals theirs). Most importantly, rather than reducing or eliminating poverty with long-term, self-sustaining enterprises, these programs are apparently designed to maintain the populace in a state of poverty and dependence.
In this regard, retired General Guaicaipuro Lameda, once head of PDVSA, the nation's oil company, from which he resigned in early 2002 (before the famous "lockout"), tells of an enlightening conversation he had with the powerful Finance and Planning Minister Jorge Giordani. As Lameda complained about the policies being implemented that were guaranteed to wreak havoc on the economy, Giordani responded, "Look, General, you haven't understood the revolution yet! I'll explain it to you: this revolution is seeking to bring about a cultural change in the country, to change people's way of thinking and living, and those changes can only be made by being in power. So, the first thing is to remain in power to make that change. The political foundation is through the poor: they're the ones who vote for us, hence the discourse in their defense. So, THE POOR WILL HAVE TO CONTINUE BEING POOR, WE NEED THEM THAT WAY, until we achieve the cultural transformation. Then we'll be able to talk about a wealth-generating economy and distribution of wealth. In the meantime, we have to keep them poor and full of hope."
Harris is right that I did mention, in a Berkeley talk I gave, that it might have turned out better for Venezuela if the opposition were to have won the elections this past April. I made that statement because the workers in independent unions in the Basic Industries of Guayana (like Emilio Campos), the people in Causa R (Radical Cause) and MAS (Movement to Socialism), Bandera Roja (Red Flag), anarchists and members of social movements who I interviewed, and clearly about half of the electorate, were supporters of Henrique Capriles and made that assertion. Every one of those Capriles supporters I interviewed considered him or herself "left" and their logic was compelling, as were their reasons for wanting to bring to an end the "Bolivarian Revolution." Their support for the opposition candidate gives the lie to the argument that Capriles represents, as Maduro is fond of repeating, "the ultra right" and "imperialism."
As for my own position, I repeat, I support neither Maduro nor Capriles. I remain agnostic, and free of "angst," about which of the two would be a better president for Venezuela.
Certainly, Venezuela has, according to the government, the "best labor laws in the world," and on paper, they are quite impressive. Unfortunately, in Venezuela, as in the United States, there is often a great gap between good laws and actual policy, between rhetoric and practic. No one knows that better than workers in the independent unions.
Orlando Chirino, co-founder of the National Workers' Union (UNT), in an interview I did with him in May of this year for a forthcoming book on Latin American social movements, described the Bolivarian government as a "a bourgeois Stalinist regime that persecuted any sign of autonomy in any social organizations of any type, be they worker movements, student movements, or campesino movements. They entered them and prostituted them with a policy of corrupting or coopting the leaders." He describes the workers of Guayana as having gone from being "among the best paid" to "losing all of that" and now "working for an average of four years without having discussed their collective bargaining agreements" because "worker control" for the Bolivarian government has largely meant "controlling the workers."
Damian Prat makes this clear when he talks about the much touted "Plan Guayana Socialista 2009-2019." In a draft of that plan, "Worker Control" was seen as a "justification for eliminating the unions… 'the exercise of Worker Control through the factory councils. To eliminate, as a form of association, self-organization (autogestión) and the unions. The unions have to end because they aren't a mechanism of participation but rather a mechanism of struggle." This clause became so controversial that some unionists "tried to justify it to the press saying, 'it's true; in the medium run with socialism unions aren't needed and they must be eliminated. What use is a union if the business is owned by the workers?'" (Damian Prat,Guayana: El Milagro al Revés, p. 82).  In a declaration to the press, the late PSUV vice President General Muller Rojas gave his opinion on the role of unions under Bolivarian "Socialism": "The union in socialist society loses its reason for existence because the workers aren't going to struggle against the workers themselves. There won't be the capital-labor dialectic…" (Prat, p. 83)
            Chirino disagrees, and he bases his views not on "theory" but on his actual experiences in the Bolivarian process as a union activist struggling for autonomy and of his personal knowledge of workers' struggles in Guayana. "Since there's no autonomy allowed in the union movement, there is a direct, abusive and even gross interference of the state governor [Francisco Rangel] through a group of union leaders from the Bolivarian Socialist Worker's Central Union, founded by the government in 2010, a union which, as we say, is neither socialist nor Bolivarian and is directed by a clique of union leaders totally tied to the state." (See our book, Until the Rulers Obey, forthcoming from PM Press)
Prat notes in his book that "today the false socialism is attempting not to improve the collective contract, but rather to declare it non-existent." Even Bolivarian workers are coming to realize that the Bolivarian government isn't pro-worker. In an article published this past July 27th 2013 titled "Bureaucracy in Venezuela has Failed to Empower Workers," Julio Polanco, the coordinator of the Federación Unitaria de Sindicatos Bolivarianos de Carabobo (Fusbec), a pro-government union federation, is quoted as saying that "As a rule, production has been chaotic. Regrettably enough, companies used to be productive while in private hands, but now production has dropped to zero because nationalized companies are driven into bankruptcy."
Strikes are increasingly more common in "the second happiest country in Latin America." PROVEA has issuedreports denouncing the increasing "criminalization of protest" under Maduro. One of the worst examples of anti-worker persecution is the case of Ruben Gonzalez, Secretary General of Ferrominera, sentenced to seven years in prison for leading a strike his members voted on. As a result of massive demonstrations across the country, he was released from prison but he continues to be called to Caracas for regular harassment through judicial proceedings.
The present situation of the "second happiest country in Latin America" is powerfully summed up in article in a recent issue of El Libertario, the Venezuelan anarchist publication which focuses in particular on the struggles of the country's social movements. They directly address Harris's contention that "Venezuela faces a situation analogous to that of the Popular Unity government of Salvador Allende from 1970 to 1973 when, as is well documented, the CIA and the local business class conspired to destabilize the economy, overthrow the democratically elected socialist government, and impose the military dictatorship of Augusto Pinochet."
The passage deserves to be quoted at length:

"The panorama is terrible and the electoral conflict has passed into a second level because what is immediate are the basic needs of our people. Galloping inflation causes anguish in the population and anything can happen. The subterfuges of an economic war of the empire and comparing our present situation with what happened in Chile when they overthrew Salvador Allende and the Popular Unity don't work because the situations are different in space and time.
"Effectively an unprecedented foreign exchange situation is emerging in the context of fiscal bonanza never before seen in our history. Nevertheless, the excessive superfluous public spending, generating an enormous internal and external debt, the subsidy to Cuba, the use of finances to maintain the international leadership of President Chávez, the purchasing of gas and oil from the United States in conjunction with the greater international spending of PDVSA to sustain the energy support for Venezuela's foreign refineries, the operating costs of the state, the undefined sums of money lost to corruption, electoral hand-outs, altogether explain the reasons for there being a lack of liquidity."
            Each one of these points would merit in-depth study by someone proposing to do solidarity with the people of Venezuela, people who are forced to stand in line to buy imported products for which their government can't seem to provide the foreign exchange ("liquidity") to ensure adequate supplies. Of course, depending on imports from countries and at the same time verbally attacking them as coup-plotters and would-be murderers is another contradiction that enters into an already complex situation. It would be better if Venezuela were able to produce for itself, but the present government has undermined and destroyed all its national industries, as our Bolivarian worker pointed out above, and this includes the agricultural sector.
Where does all this leave us as North Americans who oppose US imperialism and hope to offer solidarity to Venezuelans? Should we support a government so inept, corrupt, irresponsible, and even anti-nationalist that 100 days after close elections 56% of its citizens consider its performance under Maduro as "bad or very bad?"  Evidently, the proposals I made in my last article didn't satisfy Harris.
To simplify this very complex and dynamic process with so many variables that are constantly changing the entire situation, the question of whether or not we should support the government requires that we first answer the question, support it against whom?
In Venezuela independent social movements battle the criminalization of protest and assassinations carried out with impunity, as has been the case with Sabino Romero, murdered earlier this year, as well as 13 other Yukpa activists attempting to protect their lands; some 350 or so campesinos have been murdered in Venezuela, a fact that has drawn no notice from the Bolivarian government since virtually no investigations nor trials result and as of late 2011 there had been no convictions in any of the murders, according to the Chavista website, www.venezuelanalysis.com and now, at this very moment, the ruling PSUV party is attempting to gain "hegemony" over the opposition rather than engage in dialogue after a very close election. They are doing this by apparently framing members of the opposition like Araguan Parliamentarian Richard Mardo, and even violating the Constitution to have his immunity removed. Should we support or show solidarity to a government for all this or harshly criticize it?
On the other hand, if we're asked to defend the Bolivarian process against US, or Chinese, or Cuban or Brazilian imperialism or sub-imperialism, then my answer would be "yes." Are you with me, Roger?
In any case, to know what we should do, to whom we should extend solidarity, and what our political position should be in any given situation, we first need good, solid information based not on rhetoric, dogma, nor our own need for "hope" but rather on facts and unbiased information. The stunning lack of transparency, the manipulation of facts, and even outright fabrications of the Bolivarian government has made it an extremely unreliable source of information, forcing anyone who wants to understand the situation in Venezuela to go to the dwindling independent and opposition press. As the Committee to Protect Journalists puts it, "The Chávez administration has used an array of legislation, threats, and regulatory measures to gradually break down Venezuela's independent press while building up a state media empire—a complete reversal of the previous landscape."
But we need to also be very careful here. As a Venezuelan friend told me on my last trip to the country, "Don't believe anything you hear, and only half of what you read." For all the obfuscation and lack of transparency on the part of the Bolivarian government, it's no match for the US government with a seemingly infinite amount of money to produce lies and black propaganda. It's a very tricky thing, indeed, to put together an accurate picture of Venezuela today from news reports of any kind.
            When I first met Damian Prat at his office in the Correo del Caroní, he challenged me. "There are those in the critical, intellectual world of the U.S. and Europe who seem to think it chévere (fine, cool) that there are governments or processes characterized by arbitrary policies and abuses that happen here that they wouldn't allow in their own countries. These things you'd reject very actively and militantly. Ah, but yes, it's fine if it goes on [in Latin America]."
Neither Harris nor I live in the Potemkin village of Venezuela where the facade shines with fresh paint, hiding the crumbling country behind. Neither Harris nor I have to wait in line there for toilet paper, flour to make bread, and other basic necessities – assuming we would have enough money to pay for them, which an increasing number of Venezuelans don't. We don't have to deal with the land where a family of five would need 5.1 minimum wages just to eat a basic diet. Neither of us have had to cut out night life to stay home for fear we'd be kidnapped or attacked in the streets or become one of the 21,000 or so murdered per year, more than 90% of which go uninvestigated. Neither of us have to worry yet about arbitrary detention for years before a trial in a judicial system renowned for corruption and lack of independence, nor do we have to worry about being kept in one of the Venezuelan prisons, the third most overcrowded in the world, just after Haiti and the Philippines, prisons that even armed guards fear entering, a place neither of us would likely survive. But that's how it is in Venezuela, "second happiest country in Latin America," fourteen years into a supposed "revolution," brand "Socialism of the 21st Century." Does Roger Harris really believe things are so "chévere" down there?