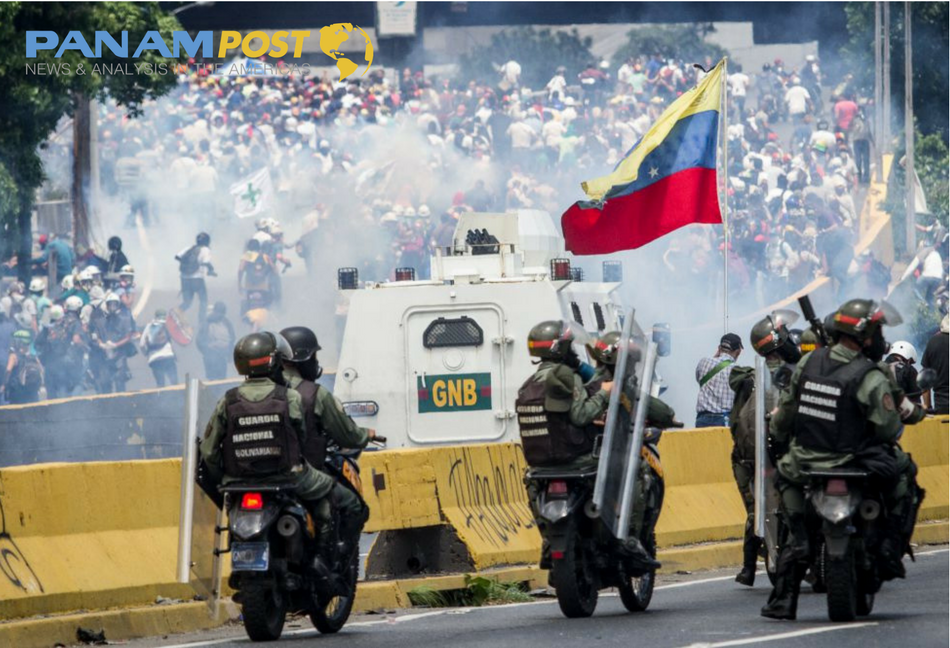 La lucha continua–into the third month
We're into the third month of the popular uprising in Venezuela and despite exhaustion on both sides (one can presume as much, and there are definite indications of it) this uprising isn't going away.
The opposition, which makes up some 70-90% of the country, depending on which polls you look at and how you define it, knows this is its last chance to get rid of the gang of thieves led by Nicolás Maduro. The Bolivarian mafias (and they're plural, each with its own realm of activity, be it drug dealing, or robbing the oil income by multifarious routes) know that if they lose, the least that will happen is their income will be cut off, and they could, at worse, be prosecuted, extradited to the US for their crimes, or hung by an angry populace. So it's a standoff, and the stakes are raised with each new death and each wave of repression unleashed on a defenseless population struggling to remain peaceful as it protests.
I've spent more time writing elsewhere than I have here. I did a long (too long, perhaps) piece on My European Tour for Caracas Chronicles, and followed up with a piece on the "Jurassic Left" that I've been meaning to write for a while.  I published a longer piece at Libcom.org, an anarchist website, called "At the Turning Point," which also came out a little later in Spanish and was reprinted in a dozen or so online Venezuelan opposition websites, first at Runrun.es and then elsewhere as "El momento decisivo." I've also been working on a film with my Venezuelan friend Arturo Albarrán, and that under very challenging conditions which I can't detail for reasons of security. So, in all, I've been pretty busy, but you'd never know it by visiting this blog. So send me an email and I'll put you on my mailing list which I send out an email every month or two to let you know what I've been writing–or reading.
What I've been reading? Hold on to your chair: F.A Hayek (The Road to Serfdom and The Fatal Conceit), Deirdre McCloskey (Bourgeois Equality) and William Easterly (The Tyranny of Experts), all very critical of the top-down socialist, and authoritarian development, and globalizing neoliberal capitalist, models of "development" and social organization. All three advocate for an evolutionary, Smithian bottom-up approach to economics and development (Hayek points out that Darwin was reading Adam Smith's theories on economics when he struck on the idea of biological evolution). If you believe, as I do, in democracy and liberal "freedoms" (of assembly, dissent, speech, thought, publication, exchange, etc) and see any social progress as having to be made on the basis of those freedoms, then accepting market economies and private property as legitimate and defensible is crucial. So as I say a definitive "Goodbye to Socialism" I continue to seek an answer to the question of what constitutes a "Left" position in a post-Socialist world. I am not alone.
I'm glad to see left intellectuals, academics, artists, activists calling for peaceful transition and negotiations. The piece Rafael Uzcátegui put out is another great appeal. But there is also an old petrified and reactionary left, personified by people like Atilio Boron and James Petras who are calling for Maduro to be more "firm" in his repression of the three-quarters of the country who clearly want nothing more to do with the Bolivarian government and want Maduro to step down and grant elections so Venezuela can rebuild. We need to be more courageous if we hope to be of any help to the Venezuelan people, and challenge those on the Left who seem stuck in the twentieth century. They seem to remember nothing of the collapse of "Real Socialism" more than a quarter of a century ago, and so they repeat the same mistakes again in supporting it today in Venezuela. Wait, isn't that the definition of "insanity"?