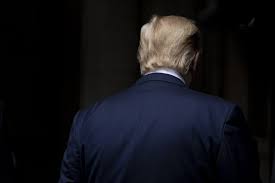 Moving On from the Black Hole at the White House
Michelle Goldberg's "Four Wasted Years Thinking about Donald Trump" was published today at the New York Times (yeah, they have a paywall you might not be able to jump; but, as consolation, do you REALLY want to read another piece on that shitpile DJT?). After listing all the casualties of 45's presidency, Goldberg concludes that "all the attention sucked up by this black hole of a president has been its own sort of loss." But come on, it's given her, and many other journalists, something to write about, hasn't it? And we've been consuming all this crap, after all.
One of my friends put it well: "Trump has proven to be the world's most successful narcissist: he's got us all thinking of him all the time." Yes, too true.
That's why I've written so little about the man, actually. I mean, there's shit tons to write about, no doubt, but it's what Guy Debord and the Situationists would all call "the Spectacle" which has had a single name, face and address, and it had distracted us from everything of REAL importance. Like species extinction; global warming; ending wars; feeding the starving and etc. etc. No, the problems have not gone away: they've only grown bigger. And so if we could consider, just for a moment, what 45's presidency has given us, we might say he's distracted us to focus our love, or hate, on a single person so we could ignore the overwhelming issues he obfuscates. Now that's gotta be worth something, don't you think?