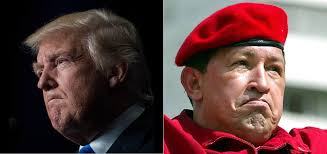 Our Chávez Moment
           A Venezuelan friend recently told me that he thought Trump will win re-election. "He sounds every day more like Chávez," he wrote me. I've been thinking the same things, myself, these days as I've tuned in and out of the impeachment hearings. And I also recall another Venezuelan telling me once, some fifteen or so years ago, as we drank coffee in Mérida's Plaza Bolívar, "every country gets the government it deserves."
           We have much to learn from the Venezuelans. After all, Venezuela was the first liberal democracy of the Americas in recent history to vote out its decades-long liberal democracy in favor of a populist leader. You see, Venezuelans also thought it couldn't be any worse. Their liberal democracy, they thought, had become so unresponsive to them, so corrupt and beset by bureaucrats and parasites, that they turned the presidency over to an outsider, a populist who promised to "clean up the swamp." He came into office and, using a constitutional convention, began taking over branches of government and submitting all the independent powers to his control. People applauded him because they believed this was how he would clean up the government. The remaining liberal democrats, those from what he called the "corrupt" former government, fought back, and each time they did, he picked them off, firing them and replacing them with loyal followers. That was how he slowly, but surely, filled all posts with loyalists.
           The people kept voting for him because the economy was doing well—it's hard to mess up the economy when oil has gone up over a thousand percent. So he kept referring to how well the economy was doing, and no one seemed to mind that corruption was actually increasing; that his style of politics included viewing political opponents as enemies to be destroyed; that he permitted no disagreement and he required absolute loyalty from his followers; that he palled around with authoritarians and dictators and insulted or disparaged his liberal democratic neighbors; that he turned the judicial system on his political opponents while allowing his followers to enrich themselves; that he filled offices of his government with family members and sycophants; that he treated his work in government as if it were nothing more than a reality television program, and for him it was nothing more than that. It was all a big fiction, one that he stage-managed as he regularly rallied his supporters as audience on his weekly television show ("Alo Presidente"), preferring this direct contact with adulating supporters to news conferences where he'd have to face a critical press corps. And, in fact, everything was ultimately arranged for the self-aggrandizement of the Leader, who none of his followers dare to question or challenge, at least not in public.
           Sound familiar? The similarities are all the more striking, given the differences: that Chávez was a Left wing socialist and Donald Trump is a Right wing failed businessman; or that Venezuela is a Latin American petro-state and the US is an empire, and so on. While Chávez heralded the return of populism in Latin America just when most analysts thought they could bury its memory, many in the US imagined their nation immune from such "exotic, tropical fevers." How wrong everyone turned out to be!
            But while the differences between Chávez's and Trump's economic policies are dramatic, their political styles and methods of rule are strikingly similar not only to each other, but to other world leaders now aggressively challenging the liberal order: Erdogan, Orban, Putin, Duterte etc. etc. While most modern political theorists label them "populist," Rob Riemen prefers to dispense with the euphemism and simply call them "fascist." Others, like Eric Hobsbawm, might see them simply as political mafias organized around social bandits (see his book, Primitive Rebels). Certainly all these designations could apply to the phenomena we're witnessing, but what's more important than the descriptor is the meaning underlying it. What these movements all have in common is that they are authoritarian, they develop a cult of personality around their leader, with the ruling party organized around that same cult. They divide society between their followers ("the people"), who they reward, and the "outsiders," who are demonized as "traitors." Finally, most importantly, and yet often overlooked, they are a protective reaction against the "side-effects" of the liberal global order. These are the movements of those left behind by the globalizing liberal order: the "deplorables," the "human scum" (Trump's term for those "deplorables" who refuse to pay him obeisance). These narcissistic, vacuous authoritarians are the last hope of the hopeless who have been thrown away by the liberal global order.
It might be important to consider just who these supporters of Trump are. While there is a mix of African-Americans (some 8% of African-Americans support Trump) and acculturated Latinos (some 27-30% of US Latinos), Trump's base is overwhelmingly white, but of a particular class. The majority are older uneducated poor and working-class white men, living in the rust and rubble belts of the United States heartland and South.
Clearly this is not a class of people Trump pals around with at Mar a Lago. What would drive this peculiar relationship of lower-class resentful whites with their disdainful and arrogant leader? Interestingly enough, it appears that what binds Trump to his followers seems to be a mutual disrespect, and a common racist tribalism. As Dr. Nicki Lisa Cole put it, "Fewer than half of Trump supporters ascribed any positive traits to their chosen candidate, according to a June-July 2016 Pew survey. Very few consider him well-informed or admirable. Only a minority expected that he would be willing to work with those he disagrees with, that he could unite the country, and that he is honest."
In other words, while Trump may find himself forced to hold his nose at his rallies as he rubs shoulders with those he deems beneath him, his base appears to do the same as it votes for a man they recognize to be a dishonest, degenerate swindler and a charlatan.
That's a pretty bleak statement of the second-most powerful force in US politics, represented by the Republicans, especially when the most powerful force, the Democrats, has allowed itself to be tied back by gerrymandering, voter suppression, lack of vision and lack of attention to those it has excluded, not to mention its own inertia before a movement of those excluded that could act as its executioner.
The impeachment of Donald Trump is certainly a hopeful sign, especially as it signals that some of our institutions and democratic procedures still function. Unlike Chávez, Trump has been unable thus far to completely dominate other branches of government, though he has managed to neutralize most departments and, in some cases, utterly disable or control them. Witness the State and Justice Departments. It remains to be seen whether his rampage will continue into 2021 and destroy what is left of our republic.
           At this point, we need to be prepared for the worst. That's why we might see what lessons can we learn from the Venezuelans who are so far down the road we only recently have begun to travel. Let me offer two cents on this, having studied their situation some fifteen years.
            Most importantly, we need to understand that there are worse things than a liberal democracy in crisis, one that is ineffective, slow, cumbersome, alienating, corrupt, distant and unresponsive. In other words, there comes a time when the most urgent matter is to defend the indefensible so that, when the smoke of battle clears, we'll be able to remove the rubble and find a foundation we can build a more durable structure upon, and perhaps make it a shelter for everyone. This isn't a matter of "choosing between the lesser evils," but it is a matter of choosing the imperfect good over the shiny, gleaming evil that promises heaven, but leads straight to hell.
Venezuelans will tell you that. And they know a lot about hell. They know that there is, under hell, a deeper hell for those who refuse to take responsibility for the world they live in. It is the hell for those who turn responsibility for their country and their world over to someone else to fix, and then turn away and ignore when that person acts irresponsibly, immorally, and unethically. But that's not the majority of the people who populate that deeper hell. No, hell, too, is a democracy where the overwhelming majority simply did nothing.