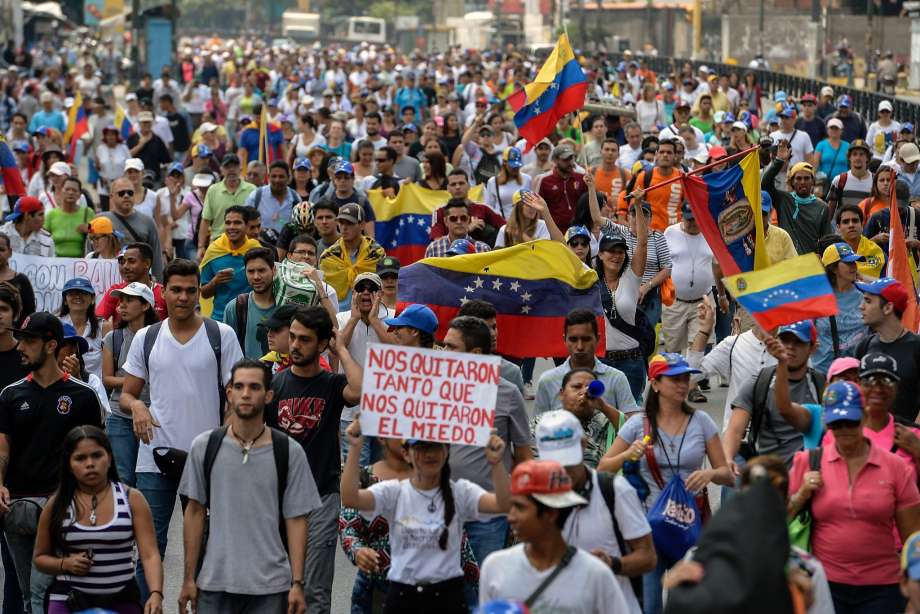 Background on the Venezuela Crisis, January 2019
This is a letter I wrote to a left, social movement activist who wrote asking me for my perspective on what was happening in Venezuela. It's been a long time since anyone on the left came looking for me and asked me for my reflections, so I gave them. For what it's worth. I'm posting it here, with a few afterthoughts and minor revisions, including the removal of his name to protect his identity.
Hi there,
Nice to hear from you. I recall meeting you once when Marcy and I did a sort of informal presentation at, if I'm not mistaken, your house.
I recommend you take a look at my film, In the Shadow of the Revolution, which I co-directed with a Venezuelan filmmaker, Arturo Albarrán. It's at my website, 
www.cliftonross.com/films
/ and you can watch it there or at PM Press website for free. It was co-produced by Caracas Chronicles which is sort of a warehouse for many opposition perspectives, including social movements. The biggest social movement today, arguably, in the world, is the social movement for the restoration of democracy in Venezuela.
Unfortunately, Trump and Bolton and Pence are tainting that movement with their "solidarity," but that doesn't invalidate, in my mind, anyway, the basic orientation and aim of the opposition's objective for free and fair elections.
I spent an entire memoir writing about this (also on the front page of my website, 
Home from the Dark Side of Utopia
) and in 2015 I published 
The Map or the Territory
 (MOT) an analysis of a solidarity movement left that has been unable to shake off the vestiges of Leninism and therefore its reactive tendencies to support "vanguards" of "national liberation movements" and to support them wherever they seem to appear, and often against the people themselves. It appears that the left has much work to do to shake off old 19th and 20th century ideas that didn't even work then, but I have found very few people receptive to analyzing situations down to premises so that the premises themselves might be questioned and analyzed.
By the way, I'd be happy to send you pdfs of those two books. Chapters 20, 21 of Home from the Dark Side(HDSU) are particularly relevant to give background to what's happening now, but the book came out in 2016.
I continue to be a solidarity activist but the "target" of my solidarity, if I could put it that way, are the social movements, the working people and marginalized (indigenous, women, etc), not "vanguard" parties, especially in this day and time when populism has supplanted socialism/communism/social democracy as the protective force of the people (but a very destructive "protective" force). Anyway, if you'd like me to write something up after you see my film, I'd be happy to do so. I think the film reveals much of the reality in Venezuela better than I could, but it was made well over a year ago so it doesn't give the background to the current troubles.
To understand what's happening now, that's crucial information. It could be summarized, as simply as I can do here, by the fact that the Venezuelan voters came out in the largest voter turn out in Venezuelan history for a non-presidential election (74.5% if my memory serves me) to vote a 2/3 majority for the opposition in the National Assembly(NA) in December 2015, and lame duck chavista assembly stacked the Supreme Court (TSJ) to strip off enough members to take away the 2/3 majority with claims of fraud (which are to this day unsubstantiated). The supreme court immediately began nullifying every bit of legislation the NA passed, as did Maduro, by granting himself (by means of executive emergency decrees and use of the TSJ) powers to decree. When, after a year of this, mobilizations began to grow and opposition so fierce due to the fact that people were literally starving (and this as a result, as I demonstrate in my book HDSU, especially chapters 20-21,  and MOT, of government policies and incompetence and corruption,  and the fact that throughout 2016 the opposition's attempt to hold a recall referendum on Maduro was blocked by the Chavista stacked National Electoral Council (CNE), that they began to take to the streets again in massive waves of protest. When the TSJ ruled in late March 2017 that it would take over the powers of the National Assembly, the people revolted in earnest, beginning in April, even though the TSJ immediately retracted its ruling, given the outrage. But it was too late.
So Maduro took another tactic in early May, and "proposed" a National Constituent Assembly to be "selected" and then voted into power to take over the NA that the people had elected just over a year before. The people held an informal referendum (because the CNE refused to allow it to proceed officially) in mid July (which Chavista paramilitaries around the country attacked, and intimidated) on whether or not an ANC should take place, and 99% of the 7 million people who voted were against it. But Maduro pushed it forward, and claimed 8million people voted in his referendum, but 
Smartmatic claimed that the CNE had hacked the voting machines
 and probably only half that many people actually voted, if that (some opposition estimates put the number at 2.5 million).
So the ANC came to power and moved the presidential elections for May 2018, but since they came to power by fraud, and therefore were not legally empowered to take over the functions of the NA, and the NA was the last freely, non-fraudulently elected body of the country, when it refused to recognize the election, most of the opposition agreed. But the elections were held anyway, though not before Maduro, in December 2017, eliminated from the running (banned, outlawed) his major rivals, the Voluntad Popular party, and Primera Justicia and Democratic Action (all moderate social democratic parties) and barred their candidates from participation, the opposition boycotted the election and only a former chavista, Henri Falcon, ran against Maduro.
This is the background to why the opposition refuses to recognize Maduro as president. But it's only a part of the background. The fact that in 2016 nearly 3/4 of Venezuelans lost about 22 pounds of body weight and, according to 
ENCOVI
, 90% of households were in poverty and unable to meet basic necessities, also played a major role, of course.
Most commonly socialists/leftists criticize my sources. But while it's true that "fake news" does exist, facts are still facts, wherever they come from. I find it troubling and problematic that so many people on the left would support a government that is so deeply corrupt, irresponsible and greedy that it's strangling the goose that lays the golden eggs to get more gold: PDVSA, the oil company is in shambles for lack of investment and good management, but an abundance of corruption. I also find it troubling that North American activists will support a government that clearly a majority of the people hate and want to be rid of, as the elections of December 2015, and massive demonstrations since, prove so clearly.
Trump, Pence and Bolton could screw anything up, as their administration has demonstrated so well recently during a historic 35-day-long shutdown, and the opposition, I think, may be making a mistake accepting their "solidarity." But it's also understandable in the case of Venezuela that they would do so, confronting, as they are, a parasitic elite that seems incapable of being an honest player in politics. We can't always pick our allies: Roosevelt teamed up with Stalin, after all, to fight Hitler. But on the other side, look at the  company that the corrupt Bolivarian elite keeps: they've turned over management of their government (especially military and intelligence) in great part to a parasitic country like Cuba which has been draining off oil to sell on the international market to pay for its "solidarity"; China, which sees great opportunities saddling the Venezuelan economy and people with debt so it can also suck out resources from the country; and Russia, with its populist project under Putin to destroy liberal western democracies (troubled as they already are by their own contradictions) who is also mining out the country's wealth and sinking the economy with massive arms sales… so if we're to talk about "imperialism" in an age of globalization, these might be the first actors to look at.
Please feel free to share this if you like. I know that many don't want to hear this and I expect they'll try to discredit what I'm saying, but perhaps there are a few honest leftists out there who see parallels between Venezuela with Maduro and the US with Trump, who see the hypocrisy of opposing authoritarianism and defending democracy and rule of law here while supporting authoritarianism and opposing democracy and rule of law in Venezuela; who in the US fight fiercely to defend the "liberal" rights of freedom of speech, freedom of assembly, the rights to redress grievances before the government, the freedoms to publish and opine, etc, but oppose those rights to citizens under the "revolutionary" government of Venezuela (or Cuba, for that matter). I'm reminded here of the words of that great Jewish prophet who said, "You hypocrite! First remove the beam out of your own eye, and then you can see clearly to remove the speck out of your brother's eye" (Matthew 7:5). Sad to say, I find so much more to admire in the conservatives of the US who have courageously come out to oppose Trump, that is, people like David Frum, Jennifer Rubin, David Brooks and others, than a cowardly (North) American left that seems unable, or unwilling?, to confront the reality staring them in the face from Venezuela.
Still, I have hope that if people simply allow a dialogue about these issues to proceed (which hasn't happened yet on the left, especially as regards Venezuela) good-hearted and honest people will become cognizant of these contradictions and work to deepen their understanding. I'm married to an honest socialist for whom I have nothing but admiration, and who continues to disagree with me on so many things (and I with her), but our struggle has been very fruitful. And so I offer my reflections here in a spirit of hope and solidarity.
yours
Clifton Ross
P.S. I don't know of any social movement sites for info on Venezuela, but 
Caracas Chronicles
 tries, and often succeeds in putting out good critical info on the country from multiple opposition perspectives.
Note:
By the way, the assumption of Juan Guaidó to the Presidency of the Republic of Venezuela was by no means or measures a "coup" or "self-proclamation" (as
Amy Goodman and Juan González
write it) any more than would Nancy Pelosi's assumption to the presidency after the President and Vice President were impeached and indicted (may it be so!) would be a "coup." President Guaidó was simply following the process outlined in article 233 of the Constitution of the Bolivarian Republic of Venezuela (the one, that is, written up under Chávez and that Maduro was trying to change with the ANC). For more on this, see the piece by Venezuelan constitutional lawyer, José Ignacio Hernández,
"De Juramentos y Proclamas: Una explicación."