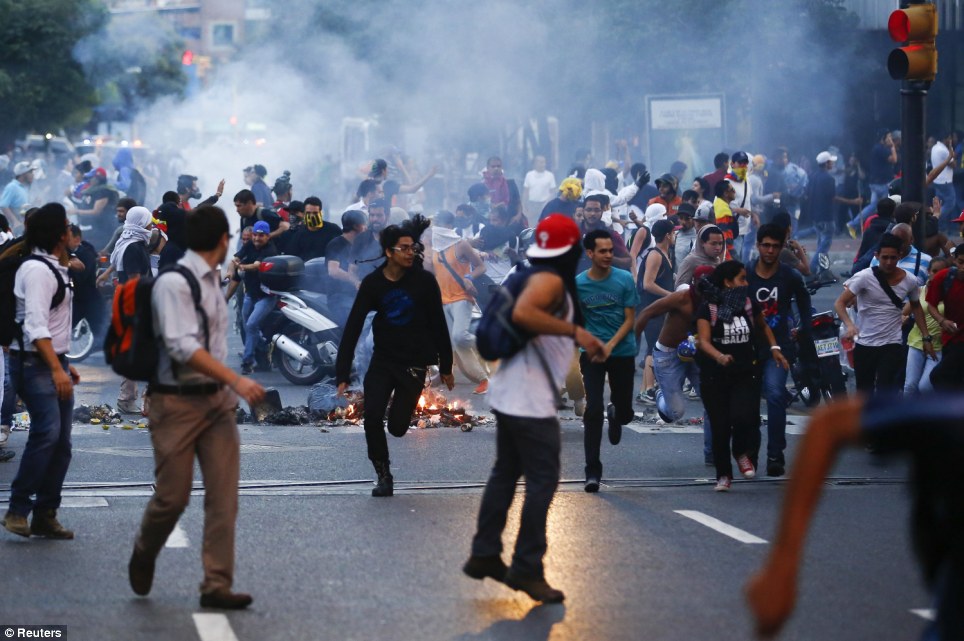 Chavista Grassroots Speak Out — Against Chavismo
(Note: I've been away from my blog for a while for personal and creative reasons. In that time the Bolivarians have taken further steps toward an outright judicial dictatorship. They were forced to take one step back when the world reacted to the TSJ (Venezuelan Supreme Court) Ruling 156 in which the court "assumed functions" of the National Assembly. This was broken down very well at Caracas Chronicles by Francisco Toro, who pointed out the behind-the-scenes reasons the government made that move at a most inopportune time. Since then–and this all took place at the end of March–outrage has grown on all fronts, but the most surprising has been the repudiation by Chavista "grassroots" groups. Why the quotes? Because much of this "grass" has been rooted in patronage. Some, if not most, of these groups represent small, and in some cases, relatively inactive, groups of Chavistas rather than genuine social movements which have always been distinctly outside of the "official" circles, and usually very critical of the Chavista movement. Some of these groups, in other words, look as much like "grassroots social movements" as a well-tended lawn covered looks like a forest. So why pay attention to them?
Well, because, if nothing else, they represent new fractures in the Chavista movement, or, put another way, public appearances of fractures that were already underway. In that sense they join Marea Socialista, Redes and other groups of former Chavistas who are, if not moving into the Opposition, at least moving toward opposition. This communiqué was released April 5th and published at El Cooperante.
Message from the Venezuelan Social Movements
"Unity, unity, or chaos will devour you. Despotism brings its own remedy and chaos poisons for centuries the blood of the social body."
Simon Bolívar
The [present] situation is unbearable for the nation. Nearly all Venezuelans are living on the edge of indigence.
The lack of leadership has extinguished the light of hope for a better future. The pact between elites brings misery and total dependence on the oil rents only results in hunger and mediocrity; worse still, if one is only able to sustain one's self with unmeasured corruption from the mafias and death.
Chaos reigns and few respect the law. On all sides public officials are completely discredited and no one any longer believes in them. We can't go on like this. A majoritarian alternative is needed. Workers, professionals, laborers, scientists, teachers, farmworkers, indigenous people, we all know that if we don't take sides, the whole nation will fall into the abyss.
We have to regain hope, a belief in our own abilities, a sense of our power and then raise our spirits and work together for a better country. The time for demagoguery has ended. There are many honest, ethical people ready to take up the leadership that we all need:
People ready to build a government of national reconstruction to regain the unity of the people, bring an end to corruption and put the nation in order; a proposal that would end the pacts between elites and organize our power to push forward development and reach social justice at last.
An end to corruption. Bring order to the nation.
Food, production and dignity
BRAVO SUR—VOCES ANTIIMPERIALISTAS— FRENTE NACIONAL COMUNAL SIMON BOLIVAR (FNCSB) — COLECTIVO PUEBLO REBELDE—-VANGUARDIA OBRERA—FRENTE NACIONAL CAMPESINO PEDRO PEREZ DELGADO—CONTRALORIA OBRERA DE ARAGUA—COLECTIVO DE TRABAJADORES EN REVOLUCION—FRENTE MULTIETNICO Y PLURINACIONAL INDIGENA
signed by:
Bravo Sur—Anti-imperialist voices—Simon Bolívar National Communal Front—Collective of People in Rebellion—Worker's Vanguard—Pedro Pérez Delgado National Campesino Front—Worker Comptroller of Aragua—Collective of Workers in Revolution—Multiethnic and Plurinational Indigenous Front.
Translated by Clifton Ross