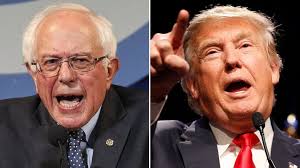 Meanderings through the American Political Landscape
Since I wrote my piece on the situation of Maduro's "hostages" for Caracas Chronicles (The Human Bargaining Chips of the Maduro Regime) National Assembly Deputy Gilber Caro has been released, likely in anticipation of the visit by Michelle Bachelet. But there are still hundreds being held in Venezuela's overcrowded prisons (that being said, our own prison system in the US is a national shame, and also overcrowded, but certainly not like Venezuela's).
---
I went to a show at Berkeley's Five and Dime Club this past week to see Venezuela's great ska band, Desorden Público. I interviewed them for this piece at Caracas Chronicles and went to the show. I enjoyed the music, but the real "show" was watching the Venezuelans dance and sing along with this great band. If you ever thought Venezuelans have lost the capacity for joy, boy are you wrong!
In line I met a former student from Chile. Sol, as I wrote in my article, has the distinction of having challenged me in class on my Chavista sympathies, and I was, and am, glad she did. I talked to her boyfriend Horacio, from Venezuela, and met Guillermo, another smart and friendly guy from Caracas.
---
Talking with the Venezuelans while we waited to get into the show was a wonderful experience, as was talking with Desorden Público members earlier in the day. We share a common experience, those of us who think of ourselves has holding to what are generally considered "Left wing" values, but who have come to believe that socialism and most Left wing governments, parties, advocates, and ideas are bankrupt. This was beautifully expressed recently by Rafael Uzcátegui, the National Coordinator of PROVEA, Venezuela's premier human rights organization. His article is a must-read: Chomsky, Code Pink and Left Wing Colonialism.
We who have been on the left recognize the same corruption taints the right wing (which is why we became leftists in the first place), and so that leaves us in a strange place in the middle, that no-man's land between the extremes, looking for home. And now, as so many Venezuelans have been driven into exile by Maduro, they're spreading their ideas, convictions and sensibilities. But so many leftists are still willfully deaf and blind, refusing to hear what's really happening in Venezuela, just as they continue to refuse to hear about human rights abuses, poverty and repression in Cuba.
Now under Trump more North Americans are feeling the same way, and find themselves looking into a politics of non-duality. But unfortunately, as a result of Trump's polarizing politics, he's creating a space for even more divisive radicalism on the left. While many of us believe we need to be working more to build a center concerned with solving our many problems in concrete, effective ways, others on the left have responded to the radicalization of the right wing with left-wing radicalism. More and more are also looking to people who call themselves "democratic socialists" for alternatives. But that term suffers from two problems: one of historical overdefinition and one of lexical underdefinition. On the one hand we have far too many examples of "Real Socialism," from the USSR to Venezuela, as an authoritarian system that makes "democratic socialism" an oxymoron. On the other hand, "socialism," the term, has come to be an empty signifier that has attracted all sorts of warm and fuzzy connotations: social justice or, as Bernie put it in his recent speech, "compassion, justice and love."
Bernie's populist demagoguery is no solution to Trump's demagoguery. I hate to compare the two since, at the level of ethics, Bernie towers over the moral dwarf in the White House. But what they have in common is a willingness to use empty language to move people… at least, I hope Bernie's use of the term "socialist" is empty, as it appears to be. If he plans to nationalize capital, eliminate markets and collectivize society (none of which do I believe) we'd REALLY be in trouble. After all, only a few die-hard nuts wandering around Berkeley believe in THAT kind of socialism.
We need a fact-based, reality-grounded leader in the White House who will be able and willing to pull our country together again and heal the divide between extremes, not one who will deepen and widen the divisions. We have serious problems of decaying infrastructure, a weakened and vulnerable economy, poverty in many forms, and, related to the problem of poverty, a government unable or unwilling to restructure the tax system to redistribute wealth appropriately and wisely — and then there's climate change. But posturing with empty language, whether it be "Make America Great Again" or "Democratic Socialism" not only is not helpful, but it's a big part of the problem that keeps us from coming up with solutions.