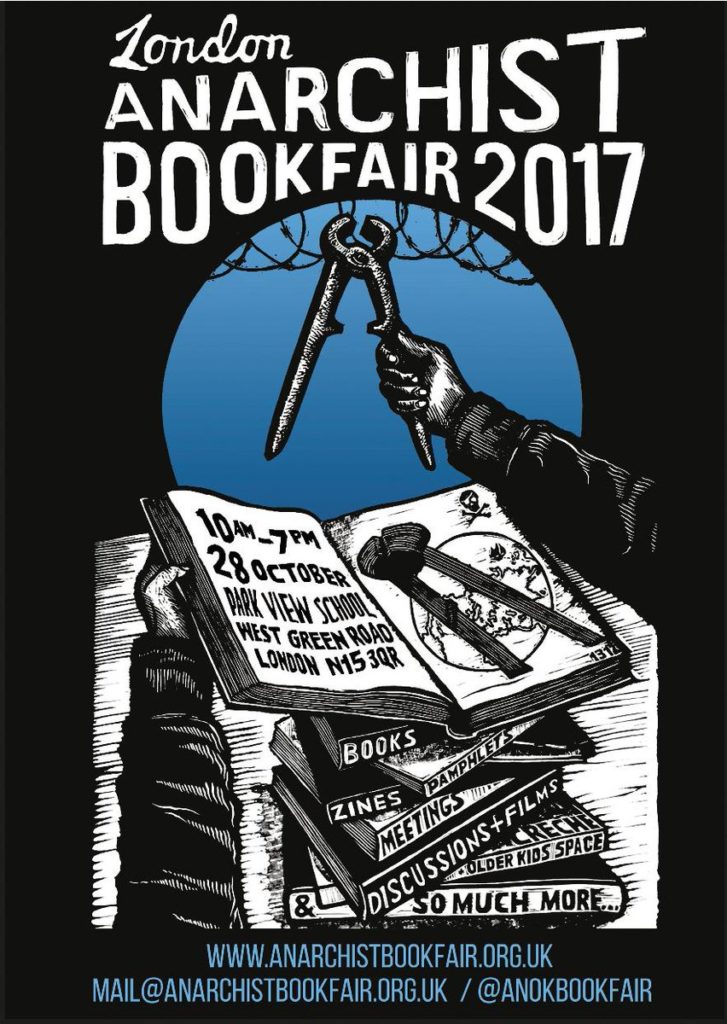 Notes from the London Anarchist Book Fair
I had a discussion about Venezuela with a small group of a dozen or so people here at the London Anarchist Book Fair today where I was supposed to show our film but as we had the room for only an hour, we just talked about the situation in the country. I promised to upload my notes on Venezuela, so here they are.
Notes for an update on Venezuela
Here's the situation in Venezuela in October 2017: Journalist Naky Soto said (Oct. 19) "A minimum wage covers scarcely 7.4% of the basic basket. The price of every product soared, greatly impacting the basket's total price" and accordingly, "by the end of 2017, 82% of the population will be in extreme poverty." The official exchange rate is 10 bolivares to the dollar, but in late October on the black market it hovers around 40,000 to the dollar. Even if people have money, there is an 80% scarcity of food. That means, of every ten items Venezuelans have on their shopping list, eight won't be available on the store shelf. This year inflation is running between 720-1000%. But since a currency policy implemented in Dec. 2016 when Venezuelans were forced to deposit all their highest denomination bills in banks (in what turned out to be a massive money laundering project at a national level) Venezuelans are now limited to withdrawing only 10,000 bolivares per day from their bank accounts, roughly $ 0.25 US, making it even more difficult to shop for food. In most parts of the country there are daily electrical blackouts and water cut offs. Last year ¾ of Venezuelans lost an average of 8.7 kilos of weight due to food scarcity and hunger. Increasingly, as shown in the film, Venezuelans are being forced to prove their loyalty to the Bolivarian govt. to eat: you mostly need a "Carnet de Patria" (Homeland Card, special cards that show you're loyal to the government) to get a CLAP bag (bag of government rations).
The official narrative is that this is all a result of an "economic war" waged by the "oligarchy" and the "imperialists" and "right wing fascist capitalists." But no evidence for this is ever offered. The claim is that there is no food because the capitalists are hoarding it. But that claim doesn't stand up to scrutiny. I'm not trying to sell my books, but I write about all this in detail my more recent political memoir, Home from the Dark side of Utopia (AK Press, 2016). Also in The Map or the Territory (New Earth Publications, 2015) available for 3.5 euros in kindle on Amazon.com and available for free in pdf if you write me. Contact me via my website if you're interested (www.cliftonross.com).
The real reasons for the disaster in Venezuela today? First, oil production is in freefall, currently dropping at nearly 10% per year, and Venezuela gets 96-98% of its hard currency from oil sales. As a footnote, PDVSA, was once in the top four oil companies of the world, but now is so damaged it can't refine its own gas and has to send its oil to refineries in the US to be refined. It then buys back gasoline which it, in turn, subsidizes and sells for a few pennies per liter. From 2007 to present Chavez, then Maduro, overspent by borrowing money massively on future oil sales assuming prices would never drop (meanwhile, all the others saved money from that windfall like Saudi Arabia which saved over $700 billion). Because of Venezuela's instability, their debt (in the form of bonds) carries some of the highest risk, and therefore the highest interest, in the world, higher, even, than Ukraine. Last year the Bolivarian government put out bonds to vulture funds selling them at a 70% discount. Because there's so little money coming in from oil, the country is making up for that by becoming the major transshipment point for all the cocaine, opium etc. produced in Colombia next door: 80% of all those drugs are transshipped through Venezuela. Traffickers include the First Lady Cilia Flores adopted sons the Flores Brothers, who were busted for 800 kilos of coke they tried to smuggle into US in a private plane, flown out of the presidential hangar by two active duty Venezuela military pilots.
Given this shortage of funds, Maduro has to choose between paying Wall Street and feeding his people: he made his decision as he continues to pay interest on the $180 billion debt over bringing in food or medicines. Since the government has destroyed domestic production of food and everything else (more on this below), Venezuela has become even more dependent on imports (between 1999 and 2012 imports increase 366%). The government, since 2013 and 2014, no longer releases economic statistics and it's clear why: And the situation of imports worsened in 2013. According to a report drawn from the Venezuelan daily Ultimas Noticias, in March 2014 imports of food had increased 51%, "of which 87.52% was purchased on international markets (about 4,298,196 tons) AND MOST OF THAT FROM USA, or roughly $13 billion/year, and only 12.48% (612,993 tons) came from local producers." In 2004 100% of the beef on sale in the country was produced nationally; by 2014 55% of it was imported.
This is the real reason for the economic disaster in the country, that Venezuela now virtually produces nothing. Several reasons for this: 1. Nationalizations went from 34 companies when Chávez took power in 1999 to 525 currently (that's the number that have survived, now living off subsidies from oil sales), and none of these are productive, production now dropping 70% across the board in Nationalized industries. 2. Currency and price controls, regulations, choking off the flow of dollars to buy needed inputs make it impossible to compete with imports, destroying domestic production. Not only isn't the govt. not providing dollars, but it owes domestic industry $9 billion, making them wait as long as a year to get their dollars needed for inputs. That explains why private industry is producing now at around 50% (if that) 3. Corruption, cronyism, especially currency arbitrage, fictitious imports (in 2012 study, 28% of imports were fake) via fake companies, and overbilling (some 40% of all transactions in 2012) embezzlement, smuggling.
All this has cost the country, according to our interviewee in the film, some $475 billion stolen, but that's a very modest estimate. I suspect it could be far, far more than that, as much as ½ of what the country took in from the decade-long oil boom, 2004-2014.
Economic war? No, the US has continued to buy and sell with Venezuela, and is still the #1 trading partner, though China and Russia see opportunity and are coming in for the kill. Arco Minero is in Guayana and it is an area of 112,000 km², or 12,2 % of the Venezuelan national territory. To pay off a huge debt, Maduro is selling mining concessions to China to this very delicate bioregion, most of which is indigenous territory. Also, there is the region where the Yukpa live, the Sierra de Perijá, subjects of Arturo's and my next film. There Maduro has signed concessions for coal mining with US, Russian and Chinese corporations, a death sentence for the already endangered Yukpas.
But as for US interference, it's true. The US has a budget, public ("black budget" certainly may be more) of spending $5.6 million/year on "democracy promotion" in Venezuela. Meanwhile, in less than a decade, Chávez spent over $300 million lobbying the US, buying influence with politicians and leftist intellectuals and spreading his narrative. At that rate it would take the US some 50 years to catch up.
Meanwhile, the political system has become extraordinarily corrupted, as President Maduro and his people have increasingly had to resort to fraud, coercion and bribery to stay in power. The elections of this past October 15, 2017, for instance, are extremely suspicious. In the light of the fraud of July 30 (when as few as 2.5 million and as many as 5 million turned out for elections in what the govt. claimed were 8 million), the government changed to new voting machines after Smartmatic (who owned and maintained the machines) denounced the fraud.
In the October 15 election the government was more subtle about the fraud. The election was carried out without ink on the fingers, thus allowing Chavistas to vote multiple times; eliminating paper ballots; conducting the elections under a 100% Chavista-controlled CNE (National Electoral Council); using paramilitaries to drive away and frighten election observers; eliminating candidates by "inhabilitación;" switching over 2,000 polling places at the last 48 hours before the election in opposition strongholds, often relocating them in paramilitary and gang-controlled neighborhoods; and finally, simply changing the tallies. The results went completely in opposition to all the polls, including Venebarómetro, Datanálisis, Consultores 21 y Datincorp, many of which gave the opposition a nearly two-to-one lead. Now clear and irrefutable evidence is emerging of the theft of the election in the State of Bolivar where opposition Leftist Andres Velásquez of Causa R (Revolutionary Cause, political party) had his numbers reversed and his victory stolen. Those who did manage to get elected despite the odds, were refused their posts unless they swore allegiance to the National Constituent Assembly (ANC), elected by fraud in the July 30. A major, historical opposition party, Acción Democrática (Democratic Action), relented and their four governors were sworn in before the ANC. This has divided the opposition which maintained unity up to this point.
Of course there were other reasons for the Chavista "victory." First, President Maduro timed them perfectly to take advantage of a very depressed population, defeated after four months of daily demonstrations. Abstention in the opposition was very high. The second point relates to the abstention: people were not only depressed, but they were uninspired. The opposition ran a very uninspiring campaign with many lackluster candidates. So the political opposition (elite) needs also to take responsibility for the poor electoral results.