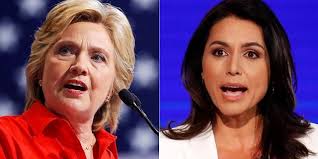 On Russian Assets and American Gusanos
Hillary Clinton has gotten all sorts of flak for insinuating that Tulsi Gabbard and Jill Stein are or were "Russian assets." As usual, the discussions unleashed around these charges are polarized and lack any nuance—much less, evidence. Certainly the circumstantial evidence is there, for instance the "allegations that Russian news and propaganda sites often report on Gabbard's campaign and that moments in Gabbard's campaign have been reportedly amplified by trolls and bots on Twitter with ties to Russia," according to CNN, but the report goes on to say that Gabbard, naturally, "denied the allegations."
On the other hand, as Russian analyst Andrew Weiss put it, "the Russian embrace of Jill Stein was anything but subtle" in the 2016 presidential race. Weiss went on to say that "Russian state propaganda outlets like RT had a field day with her strident attacks on the U.S. political establishment, and they seemed to work hand in glove."
RT, Russia Today, over 99% owned by the Russian government, has been called "the Kremlin's principal propaganda outlet," so the fact that Jill Stein, Michael Flynn, and yes, Donald Trump have been given ample space to air their views raises questions about their allegiances. What's shocking is that more people haven't raised questions about the wisdom and ethical issues related to their engagement with this station.
Let's turn the question around and say, we have a Cuban who regularly is given space to air his anti-communist views on Voice of America: what would we call him? When I asked a leftist friend of mine that question recently, she responded without thinking twice, "a gusano." For those not hip to Latino and leftist lingo, that means "worm," and it's the word Cuban Fidelistas and their sympathizers use to disparage Cuban counter-revolutionaries of any stripe, a pejorative of the worst kind. My friend, to her credit, caught herself (probably because she knows my politics, and how they've changed over the past five years) and excused herself for using the word, but she saw my point, in any case. In other words, not only would a leftist see a Cuban counter-revolutionary colluding with VOA as a "US asset," but he or she would see that asset as the lowest form of life, indeed, as not even human.
For the moment let's leave aside Clinton's charges against Tulsi Gabbard for which she provided the flimsiest of evidence. By the fairest equal standard of judgement, however, Jill Stein, Michael Flynn and Donald Trump have all, without doubt, operated as "Russian assets" at a most basic level: offering themselves to be used as Putin's puppets for criticizing the US government in exchange for air time and publicity for their own personal causes or campaigns.
But if that's the case, what are we to say about people like Chris Hedges, Ed Schultz, Larry King and Abby Martin, and all the other "progressive" leftists who do the same as Stein, Flynn and Trump, but also receive a paycheck from Putin to carry on their work at RT? For Abby Martin, who started out as a conspiracy theorist around the 9-11 Truth Movement, RT was just a stepping stone to her work for another dictatorship's propaganda station: Telesur, funded overwhelmingly by the Bolivarian government of Venezuela. Her series hosted by Telesur, The Empire Files, later went "independent."
Perhaps most disappointing, from a moral point of view, is Chris Hedges' willingness to perform for Putin. His weekly show, On Contact, is certainly entertaining and engaging, and he brings on some incredible guests, but one wonders how a man whose severe and uncompromising moral stance towards US political issues could possibly not question doing his criticism for Moscow and Vladimir Putin. It's not like he has no venue in the United States to vent on issues that concern him: he publishes at some of the most prestigious presses in the Western World, and he's a much-in-demand speaker. Isn't that enough to satisfy his ego-need for the limelight?
The incapacity of so many US intellectuals who seem to have no problem working as assets of an illiberal neo-dictatorship like that of Vladimir Putin makes Liz Wahl's break with RT all the more impressive. In her final broadcast as RT anchor in 2014, she said, live on the air, "I cannot be part of a network funded by the Russian government that whitewashes the actions of Putin. I am proud to be an American and believe in disseminating the truth. And that is why, after this newscast, I am resigning." In an article published at Politico, she wrote that for the two and a half years she worked at RT, "I'd looked the other way as the network smeared America for the sake of making the Kremlin look better by comparison, while it sugarcoated atrocities by one brutal dictator after another."
So maybe Hillary Clinton got it wrong about Gabbard, and perhaps she was even a bit hard on Stein—although some of us wouldn't think so. But she missed the whole other crowd of Russian assets who pass through Putin's propaganda station without the slightest stain on their credibility as activists. Perhaps Clinton's faux pas will raise a much-needed discussion about a sector of the US left who seem to be oblivious to the double standards they hold that prevent them from seeing themselves as "American gusanos," on a moral level below that of those they most despise.