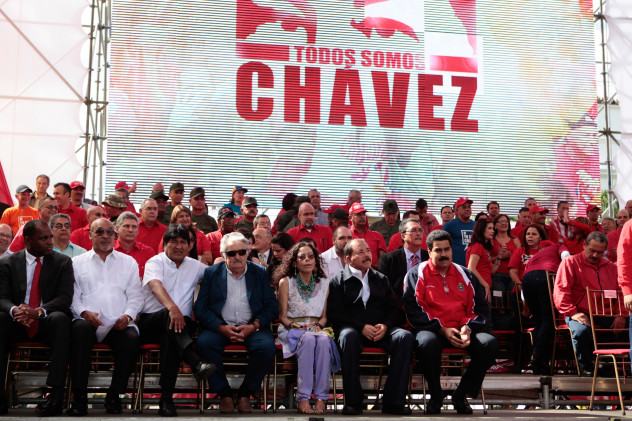 Reading Left to Right
A couple of days before the Presidential elections in Venezuela Caracas Chronicles published my interview with Anatoly Kurmanaev. I'm happy with how the interview turned out, but found that fitting everything into a 1200-or-so-word article challenging. There's so much more to say about implications for journalism and society of a liberal democracy that no longer values a free press (or even relatively free [corporate] press, compared to a completely unfree state-owned press) enough to pay writers and reporters for their work. Because ultimately there will always be authoritarian anti-liberals with deep pockets, like Nicolas Maduro and Telesur or Vladimir Putin with RT News, waiting there with wads of cash and offering those reporters and writers a venue for publication.
I was one of those writers, even if only a poet, who the Bolivarian government put up in the Caracas Hilton during the Second World Poetry Festival of Venezuela. I know what it's like to be fêted (even if only for a couple of weeks) and given a venue for my work; to be celebrated as a "fellow-revolutionary" and how hard it is to find your critical balance and speak your truth when you're given that status. And so I recognize how hard it must be for people like Ed Schultz, Thom Hartmann and Chris Hedges and others to pass up an offer of a show on RT, and for US activists writing about Latin America to resist working for Telesur when no one else is willing to pay them for their writing. I think I would have jumped at the opportunity to write for Telesur back before I began to have my doubts about the Bolivarian Revolution and started rethinking everything I thought I "knew."
The "re-election" of Maduro is a misnomer: the word "election" implies choice, and the Venezuelan people were offered none. Henry Falcon didn't represent an alternative, and the Opposition boycotted the whole process. Now Venezuela is settles back into a low-level misery without the "excitement" of elections even to distract the country from its rapid decline.
*
Most surprisingly, to me, at least, is that many on the world-wide Left continue to support the "Bolivarian Revolution." Read my piece on this reactionary left, published July 4th. My only criticism of Caracas Chronicles is the image they chose for the piece– it includes Pepe Mújica who is probably a cut above the people I talk about as the "reactionary Left" in my article. My buddy and co-director Arturo Albarrán pointed that out to me and I acknowledged it and said that, well, at least he was wearing sunglasses in the photo. That kinda sets him apart from all the others pictured there with Daniel Ortega, Rosario Murillo and Maduro.
Because I still believe in the importance of social movements and their relevance to maintaining the vitality of liberal democracy, the right wingers at Caracas Chronicles had a field day attacking me for the piece and Caracas Chronicles for publishing me. Fortunately, I've survived far worse treatment by [my ex-comrades on] the Left when I changed my views on Venezuela. I'm pleased to say that the attacks no longer bother me. But neither am I interested in responding to them.
What saddens me, really, is that every day Venezuela seems to descend another ring into hell, and there's no end in sight. Bolivarian Venezuela proves that as bad as it gets under liberal democracy, things can always get worse under a "messiah" who promises salvation. Don't believe it? Read Enrique Krauze. He lays out the facts on Venezuela and offers warnings about what might lie ahead for Mexico after its recent election of AMLO to the presidency. I hope Krauze is wrong, but I've seen enough of what populism can do in the past few years (including here in the US under 45) that I'm afraid he might just be right…