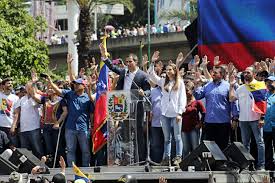 The January 5th Coup
Naky Soto has an excellent, spunky piece up at Caracas Chronicles on the January 5th  Chavista golpe de estado. Read it. She talks about the Bolivarian government's attempted overthrow of the last independent, democratically-elected power of Venezuela, the National Assembly (NA). Of course, the NA take-over was as sloppy as all their other mischief, including the "socialism" which has remade the once prosperous Venezuela into Latin America's first failed (or failing) state of the 21st century.
The government, using the national guard and police, prevented the opposition assembly members, who represent the majority, from entering the Federal Legislative Palace. Inside the Palace, the minority Chavistas illegally (that is, without a quorum and by the usual trick of a fraudulently-inflated vote count) installed Luis Parra, a compromised oppositionist who has evidently been found with his fingers in the CLAP cookie jars.
But it's not all over, and the struggle is ongoing. The elected opposition parliament met in the offices of the remaining opposition newspaper, El Nacional, re-electing Juan Guaidó as president of the National Assembly. Despite recent defections of a few small parties (like AD, Acción Democratica and others), the opposition is doing what it can to demonstrate its unity, even as Maduro shows no signs of leaving power or opening the country to any sort of democratic transition.
With these latest moves the Maduro government is drawing criticism even from its last remaining allies in the region, with the exception, of course, of "revolutionary" Cuba, with its fangs securely planted in the country's throat: there are, after all, a few drops of blood left in the national corpse of Venezuela.
And it's mighty rich blood. That's why Maduro doesn't really need international allies as he can continue to throw scraps of meat to his generals and crumbs to his lower-ranking followers. After all, he presides over much of the 40,000 miles of mostly virgin territory he's having ripped apart in the gold fields known as the Mining Arc. Until that gold is all gone and the once-beautiful land of Venezuela is utterly drained of its wealth and left in ruins, he and his followers see a bright future for themselves.
In the twenty-first century, they call this "socialism."