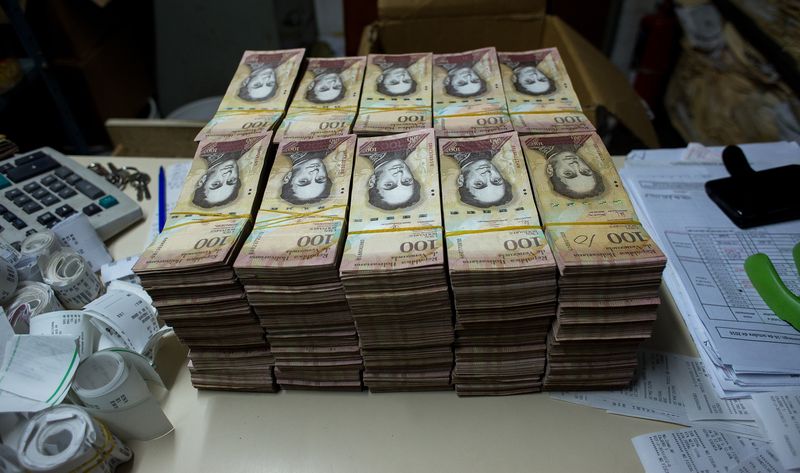 The Venezuelan Kicker: No money left… to print money!
Chatting with my friend Arturo a while back he mentioned that the bank ATMs were limiting people to 10,000 bolívares in withdrawals. This problem has multiple problems, as every problem in Venezuela does. So first, let's look at that number.
It seems like a lot, right? I remember back about ten years ago or so when Chávez went over to the "strong bolívar" and pegged it at 2 bolívares to the dollar. If you haven't been paying attention to dolartoday.com the way we compulsive Venezuela-train-wreck watchers do, you might not know that, as I write, the bolivar is now at 23,000 and change (okay, 23,774.63 on September 16 2017, to be exact). The history of this crisis has been explained elsewhere, quite competently, by many economists (including the very entertaining Daniel Urdaneta), but you may recall that last December (2016) President Nicolás Maduro scared everyone in the country into depositing the highest denomination bill at the time (the 100 bolívar–or "bolo"– note) saying he was going to pull it out of circulation. Now, coming up on a year later, the 100 bolo note is still in circulation, but Venezuelans no longer have any cash stacked up around the house with which to buy, well, anything. It's all in the banks, see? But now they can only pull it out of ATMs 10,000 bolos at a time, or 30,000 bolos from the bank window. That's the limit, per day, on withdrawals from the banks.
So this requires people to stand in long lines to get money so they can stand in long lines to get increasingly scarce items of food. Yes, the price of food has gone up so that in Venezuela it requires at least five minimum wages to buy the basic food necessities– when you can find them. The scarcity rate is somewhere around 80%– that is, eight of ten items on your shopping list will be missing on the store shelves. And so when they stand in those long lines to get those two items of food, Venezuelans only have a buck and a quarter to spend, because that's what 30,000 bolos represents now– more or less, but let's not quibble. Okay, let's quibble: that's exactly $1.26 today.
But most Venezuelans might not have more than a few thousand bolos in the bank anyway, given that wages are so low. The man described in this article working as a messenger is making the equivalent of $9 per month– but wait, that was back when the story came out (August 23, 2017), nearly a month ago, and now (as I write this on September 16) his 150,000 bolos per month salary is worth $6.31, more or less. And guaranteed to be less tomorrow.
But why, one might ask, in a context of rampant inflation bordering on (or now actually?) hyperinflation, why would a government limit the amount of money a person could withdraw from his or her bank account? The answer is, in fact, quite simple: in this environment of hyperinflation, the government has no money to print money. That's right, as in, "you gotta have money to make money," the Bolivarian government is so broke it can't pay to have its money printed and shipped in by the planeloads as it did last year. And of course, this comes from multiple problems like mismanagement of a historic oil boom (2004-2014), corruption, graft, embezzlement, and all the other crimes that the little mafia called the Bolivarian government has engaged in.
Given all this, I just have one question to ask the few Chavista friends I have left in Venezuela (since most are now opposition or have left the country): How's that Twenty-First Century Socialism working for you?