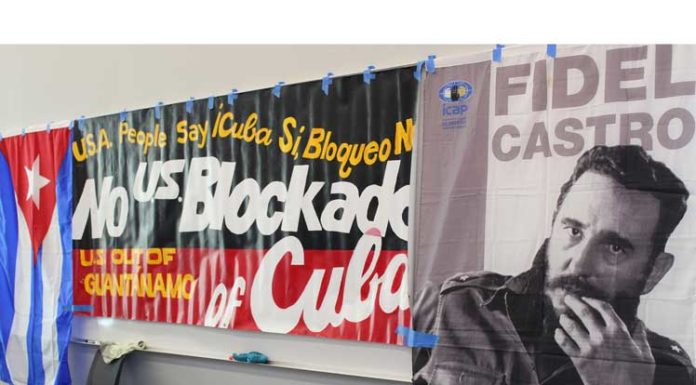 What Solidarity Isn't
I've felt obliged by the current polarized politics to engage in polemics recently, taking on Noam Chomsky and the solidarity Left in two recent articles.
My new tack has caused one acquaintance to criticize me and unsubscribe from my mailing list (yes, you CAN subscribe by sending me an email to clifross [at]gmail.com or scrolling to the bottom of the home page here and filling in the form with your email address. I only send out messages when I post something new here or publish elsewhere, usually once a month or so). He wrote that he had once "appreciated the elevation of critical left voices and facts on the ground in Venezuela" and added that "It's a shame you didn't stick with that and started writing more polemically." He seemed to be offended by my recent criticism of Noam Chomsky at Quillette, and my "disavowal of socialism" at the same website. He also seemed somewhat offended that I quoted Christopher Hitchens on Chomsky in my article, and considered that an "embrace" of what he called Hitchens' "racist war-mongering."
The quote of Hitchens was spot on, as I see it, nailing Noam Chomsky for his "half-truths which have become his hallmark." But let the reader decide if the quote was more than a quote…  And as for the "shame" that I changed what I was doing, I can only quote William Blake: "The man who never alters his opinion is like standing water, & breeds reptiles of the mind."
I still believe in the "elevation of critical left voices and facts on the ground in Venezuela," but for me that involves criticizing the half-truths and outright lies of those who support the Bolivarian government in Venezuela. That's why I wrote the "Notes for a Real Solidarity Movement" that went up today at Caracas Chronicles. Polemics are unavoidable in a war, and they also seem just as crucial in trying to build a peace.
I didn't write back, but decided to save my response for this blog post. I have changed, indeed, I have changed. And my friends on the Left, for the most part, have remained the same, doing their work, as I see it, of breeding "reptiles of the mind." The only difference between myself and those friends is that I returned, again and again, to Venezuela, and witnessed with my own eyes, and considered my experience with my own mind to understand what I saw, while few, if any of those friends, clinging to the red rags of the banner of socialism, can say the same. And perhaps also, by the grace of God (or whatever you want to call the omnipresent consciousness of the universe), I had the humility to recognize when I was wrong and felt it my obligation to acknowledge it. I hope my former comrades on the Left might one day find the same humility to acknowledge their errors because finding the right path to truth and understanding can only begin when you recognize you're not on it.
Solidarity isn't the same thing as codependence, nor is it cooperating with a lie, or repressing the truth that makes your vanguard look "bad." "Hands off Venezuela," and all the other formations like them (Marin Task Force on the Americas, Venezuelanalysis.com etc.) are delusional if they think that such behavior is helping out their cause, and it's very clearly undermining the rule of law, democracy and the interests of the vast majority of Venezuelans. If calling that for what it is and criticizing that dysfunctional behavior is "polemics," then I think we desperately need much more of it.