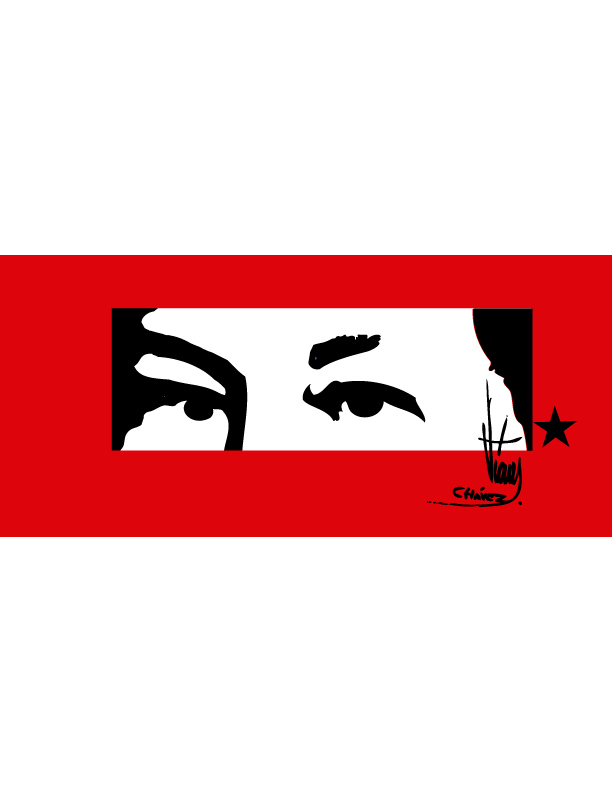 What they aren't saying about Bolivarian Venezuela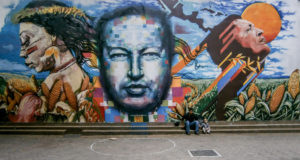 And I mean no one is saying it, at least not in English in the United States. It's the most obvious fact about the Chavistas, Hugo Chávez, the Bolivarian project, and it may also be the most important thing to say about the current crisis in Venezuela.
Javier Corrales hasn't mentioned it, and I don't think there are many better analysts of Venezuelan reality writing and teaching in the US—though a few like David Smilde, especially in his latest piece, show themselves his equal. Certainly, one wouldn't expect Chavista Steve Ellner to make note of the phenomenon, since he still seems to feel there are possibilities in the Bolivarian project even at this shocking stage of degeneration, and he's demonstrated he's as willing to overlook the crimes of the Bolivarians as he is to criticize the opposition. Reader, imagine a deep sigh here on the part of the writer. I mean, I really like Steve and I used to respect his intelligence… But, as this unnoted phenomenon will make clear, we're not talking here of "intelligence." I mean (hint, hint), religion doesn't make people stupid, but some kinds of fundamentalism do blind intelligent people to obvious realities.
Naturally, it would be a Venezuelan who would take note of the Bolivarian elephant in the room. Margarita López Maya referred to it obliquely in her piece at Prodavinci.com. If you read Spanish, you need to follow this website which could be called the online intellectual cultural center of the Venezuelan opposition intelligentsia.
What Margarita makes clear is that what's happening in Venezuela has nothing to do with "Right" and "Left." You'll find many good people of the democratic left in the opposition, and more than enough Right-wingers in the Chavista coalition. It is rather a struggle between two worldviews of a very different sort.
In "For Chavismo it's All or Nothing" Margarita López Maya talks about the roots of this crisis in Venezuela in two events of 2013: the beginning of the economic crisis (which preceded the catastrophic drop of oil prices by nearly a year and a half) and the death of the "Eternal Commander" Chávez. She goes on to say that since there were no dollars to lubricate the machinery of patronage, corruption and cronyism that had sustained the "Revolution" up to that point, Maduro was forced to rely on "Macondian strategies," referring to the fictional town and setting for Gabriel García Márquez's One Hundred years of Solitude which, in a sense, defined magical realism. Maduro's strategy, she says, consisted of the "sacralization of the figure of Chávez, and among other absurdities, having Him gaze at us from buildings as some sort of divinity. Or he's tried to convince us that he's a copy of the Leader, something quite shocking" (note, caps not in the original: inserted by this translator for effect).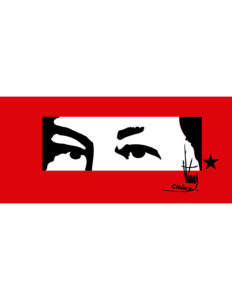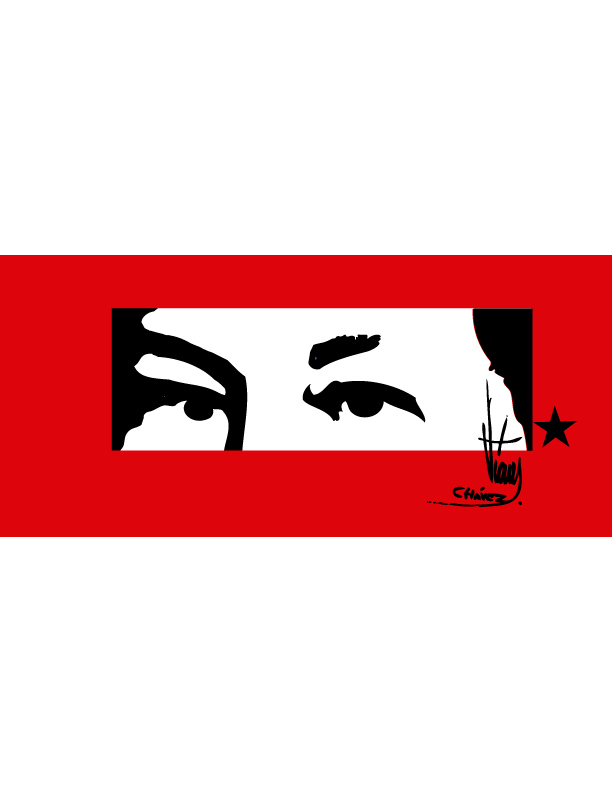 As anyone who has read my new book knows, Margarita served as my one of my most respected guides to Venezuelan reality from a left opposition perspective. In Chapter 18 of Home from the Dark Side of Utopia, she develops this idea further, getting at what's going on in Venezuela now and why the problem is so intractable. In this passage she talks about the "divine right of kings" and the "quasi-religious" status Chávez had of himself (a status, I would add, shared by many of his followers). I was summarizing her argument, with quotes inserted:
"When Chávez died, the government went into crisis. Clearly this divine right simply 'couldn't be transferred to a mortal.' The Bolivarian nomenklatura thus began to develop a 'sort of civil religion in which Chávez delegated to his successors his 'Divine Right' to govern, in a manner of speaking." Thus Maduro, a follower of Sai Baba who called himself the "Son of Chávez," said that Chávez had appeared to him as a little bird, like the Holy Spirit, to confer his blessing upon him. This, Margarita argued, was invented to indicate that the 'quasi-divine legitimacy has somehow been transferred to Maduro to govern.'"
This point is crucial and without it, it will be impossible to understand the scenario that is playing itself out in Venezuela from here on as we enter, well, "weird." It explains why Steve Ellner and other very brilliant Chavistas can't seem to see the reality as it unfolds right before their eyes. It explains why the paramilitaries known as "colectivos" feel justified going out armed to break up opposition gatherings of the most peaceful sort, and why they feel they can walk right into the National Assembly and disrupt a very serious discussion, breaking and stealing things as they go. Why they feel, for instance, that they can work hand-in-glove with the police and national guard to chase down and shoot point blank at peaceful, unarmed protestors during the Taking of Caracas, which turned out to be the Taking [back] of Venezuela.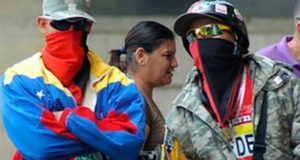 What I'm referring to, and what Margarita indirectly referred to, was the messianic millenarianism of the Chavista Bolivarian faith. That is what's so worrisome, and it's deeply rooted in the country of Venezuela and the culture of Latin America—and, for that matter, among extremists, left and right, in the United States.
In the US this millenarianism in the mainstream takes on the Liberal character of the nation its founders gave it, and, through a secular transmutation (necessary in a context where Church and State are separated) it becomes the idea of Progress. The US ideology of progress has the Anglo hues of postmillennialism, the doctrine conceived in the 1658 Savoy Declaration as an extension of the Westminster Confession of Faith. It was a faith collectively shared by Puritans, Congregationalists, Presbyterians and Anglicans, and postmillenialism ultimately became associated with Liberal, socially active Christians, like the Abolitionists.
In Latin America, as Howard Wiarda reminds us in his essay, "The Latin American Development Pattern,"[1] "socially and economically, the pattern stems in large measure from the peculiar development of the Spanish economy and society during the Reconquista…" Wiarda says that a counter-Enlightenment "intolerance, the Inquisition, and religious fanaticism" from that historical moment in Spain "was transferred to America." Political structures, even through the wars of independence, remained "authoritarian, absolutist and narrowly based" so that the liberal ideas of "limited government, government of law and not of men, checks and balances, and more representative and democratic rule" were never adopted.
The "religious fanaticism," intolerance and inquisitorial elements proper to Spanish Catholicism at that time, the authoritarian rule of messianic "caudillos," and the associated the apocalyptic movements for liberation have been fictionalized and recounted in many books, perhaps most dramatically in Mario Vargas Llosa's The War of the End of the World (La Guerra del fin del Mundo) about the Brazilian War of Canudos. Indeed, the magical realism of Mario Vargas Llosa or Gabriel García Márquez touch deeply into both the magic and the reality of Latin America.
This is not a matter of "essentialism" or of advocating for one cultural model over another, although I, myself, prefer liberal democracy over any other political system. However, it is to say that the common features, or at least, expectations, of liberal values, individual volition, democratic government in service of the people are replaced in Latin America with Catholic moral principles, collective solidarity and people in service to community, Church and Nation.
Here we come back to Venezuela. The Christic figure of Simon Bolívar is found in every village, town and city of Venezuela—right there in the local Plaza Bolívar, since every central plaza in the country is named after him. The essential caudillo, Simon Bolívar, goes by the name of "Libertador" (Liberator) in Venezuela, and here we get to the good part: Chávez believed himself to be the reincarnation of "El Libertador" himself. And, no doubt, so did many of his followers, although it's fortunately only the rare, crazy bird that takes it so far as to murder his mother as a sacrifice to save Chávez's life.
No doubt Margarita is right and Maduro's manipulations are "chocante" (shocking, unsettling, disagreeable). And no doubt Maduro and a good number of his cronies who push this fake messianic apocalyptic narrative of the "Eternal Commander" (Comandante Eterno) are just cynics wanting to avoid drug trafficking or money laundering charges in the US or elsewhere by keeping themselves in power and immune from the DEA and Interpol. For them the icon of Chávez's eyes looking down on the people from buildings all around Venezuela is just a useful tool to keep the population submissive, a symbol of the Bolivarian panopticon which, in the real world has no Cosmic Commander behind it, but rather the Cuban G2 who run Venezuelan intelligence.
But then there are the simple people, and even the intelligent people like Steve Ellner and others, often brilliant and committed. Too committed, in fact. These Yankee Chavistas and Bolivarian internacionalistas like Steve see their work as defending something they seem to believe is a "revolution" of some sort or another. But what is the secular, modern, socially-acceptable word for apocalyptic uprisings but "revolution"? The simple people, and people like Ellner himself, predictably, don't "see" certain things about the "revolution" they support, like, for instance, the drug trafficking in the First Family and the military, the money laundering, the impunity and so forth, although, like Ellner, they do make a nod to some problems with the Chavistas.
But I don't worry about Steve Ellner: it's the hard-core of Chavismo, that worries me at this point. They're the ones who broke into the National assembly the other day, beating people up, stealing from them and vandalizing the area before they left. They're the Chavista members in the National Assembly who've had a bad habit of physically gang beating their fellow assembly persons like Maria Corina Machado and William Dávila. It's the members of the "colectivos" or paramilitaries who carry arms in the service of God, His Kingdom and His Messiah, and feel justified in any act of violence because they commit their acts in the service of God. Theirs is a messianic faith in which Hugo Chávez occupies a spiritual place among the other patron saints of Venezuela: Dr. Jose Gregorio Hernández, Maria Lionza and El Libertador himself.
And it's also the police, and soldiers of the Bolivarian National Guard who feel themselves bound to protect "el Proceso" of the Eternal Commander and "his son" Nicolás Maduro against the "apátridas" or traitors to the homeland.
Together these represent a strange mix of Leninists without an ideology, messianists without a messiah, revolutionaries without a revolution and soldiers without their Eternal Commander. And this whole bunch is increasingly desperate for something to hang onto in a country descending into chaos. And when there is such cognitive dissonance that people can no longer cope, they often cling more tightly to their idols, ideals, and ideas. And this is a Manichaean world, a binary world, black and white, made up of "good" people (ourselves) and the "bad" people (them). In this world "we" are the "good" people and therefore, what we do is good. And so we close our eyes and pray. Or we close one eye, and pull a trigger. If "we" have their way with Venezuela and set out to rid the world of "them," I'm afraid it really will end in apocalypse.
[1] Howard Wiarda, Corporatism and National Development in Latin America (Boulder, CO: Westview Press, 1981)