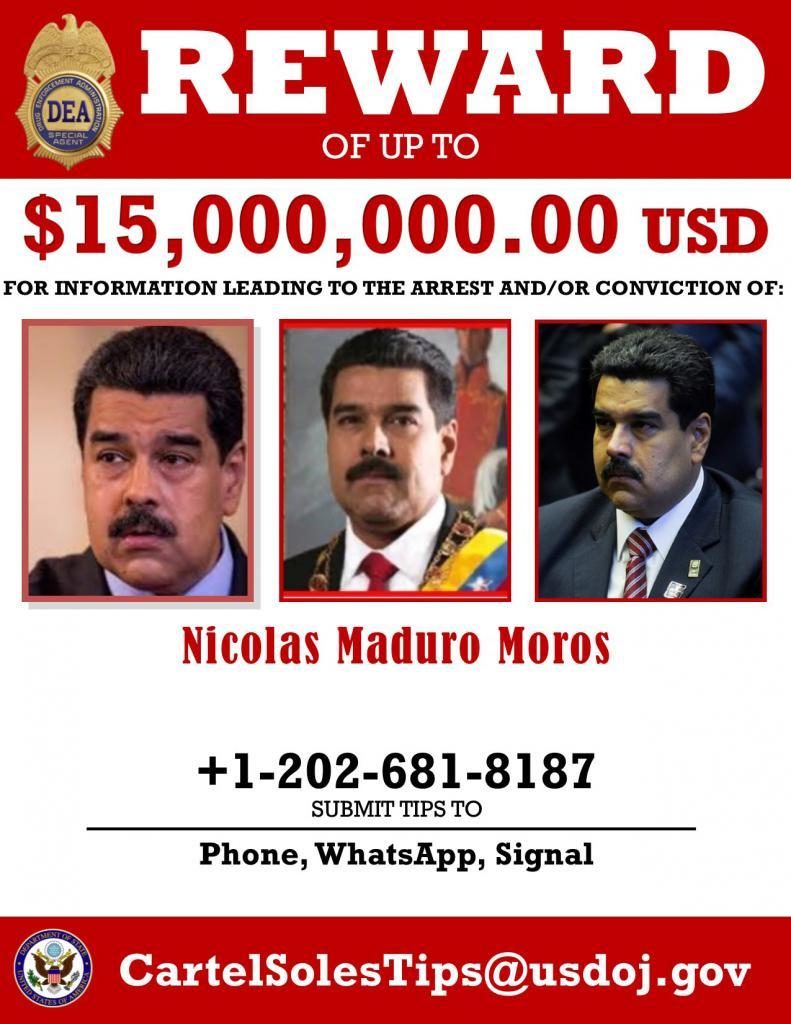 Indicted!
At long last Venezuelan President Nicolás Maduro and his mafia have been indicted in the US for cocaine trafficking. Back in November 2015 when the First Lady's nephews, Efraín Antonio Campo Flores and Francisco Flores de Freitas, were busted for attempting to smuggle 800 kilos (that's roughly one ton) of cocaine into the US it should have been clear that the First Family of Venezuela was up to its eyeballs in a criminal enterprise. A little over a year later the two were tried, found guilty and sentenced to eighteen years in prison. All sorts of interesting and compromising evidence emerged in that trial, including the fact that the two young First Family traffickers "would often fly out of Terminal 4 of Simon Bolivar Airport, a terminal reserved for the president." It appeared that these frequent flights brought in financial assistance to "Maduro's presidential campaign in the 2013 Venezuelan presidential election and potentially for the 2015 Venezuelan parliamentary elections," which, incidentally, they lost.
On this particular occasion, when the pair were arrested, their jet was piloted by "two Venezuelan military personnel accompanied by two presidential honor guards." A later raid on Efraín Antonio's "mansion and yacht in the Dominican Republic revealed an additional 280 lbs of cocaine and 22 lbs of heroin, with 176 lbs of the drugs found in the home while the remainder was discovered in his yacht." In one of many incriminating secret recordings Efraín Antonio Campo bragged that "I am 30 years old. I've done this [drug trafficking] since I was 18." Photographs of the First Family traffickers holding kilos of cocaine and armed with high-powered weapons lent credence to the fact that these were hard-core, high-ranking criminals.
Even years before the bust in the heart of the Venezuelan First Family, rumors abounded about drug trafficking in the highest circles of the Bolivarian government. Spanish journalist Emili J. Blasco opens his book, The Boomerang Chavez, with a scene in which President Hugo Chávez observes FARC (Colombian Marxist guerrillas) bringing a herd of cows into Venezuela, all of which have had their udders cut open and filled with bags of cocaine. Diosdado Cabello, "Number Two" in the Bolivarian government, has long been known to be head of the Suns Cartel, the military mafia involved in drug trafficking among other criminal enterprises.
So the press conference where Attorney General William Barr laid out the charges against President Nicolás Maduro and his cronies was not surprising, nor was the $15 million reward. One might even say it was slow in coming, given all the evidence the DEA likely possessed for many years.
While many of my friends in Venezuela rejoice that Maduro is now a wanted man in the US and that his life will become more complicated, I'm not at all sure there's much to celebrate. In general, Trump's Venezuela policy has heartened many in the Venezuelan opposition and this latest aggressive step has many in the country cheering. But as I've tried to make clear, Trump is a very unreliable ally indeed. Ask the Syrian Kurds. And no doubt, he won't be any more reliable, or even effective, in his "solidarity" with the Venezuelan opposition. I'm inclined to agree with WOLA that Trump's sanctions in fact need to be scaled back to enable the country to cope with the Covid-19 pandemic. I also think Geoff Ramsey has good instincts, is well-informed and makes a great case when he argues in a BBC report that "by bringing narco-trafficking charges against Maduro and his intimate circle, the US government is making it that much more difficult to negotiate with them" (my translation).
Nevertheless, I think Ramsey tends to minimize the Venezuelan military's role in drug trafficking even as he points out the inconsistencies of US policy towards the Honduran and Guatemalan governments who evidently are involved in the same activities. Venezuela IS a major hub for trafficking and Jackson Diehl detailed as much in the Washington Post back in May of 2015, six months before the arrest of the so-called "narcosobrinos" of the First Family (the story is now behind the Post's paywall, but look it up if you subscribe: Jackson Diehl, "A drug cartel's power in Venezuela."
In the end, however, WOLA and its associates are right to advise caution, something the Trump administration—no, let's call it like it is and be specific: the oafish Donald Trump, not his "administration"—seems incapable of hearing. Especially given that, as Rick Wilson puts it, "everything Trump touches dies" this newest development regarding Trump's approach to the Bolivarian government and its representatives should be welcomed, if at all, with caution.
Beware.