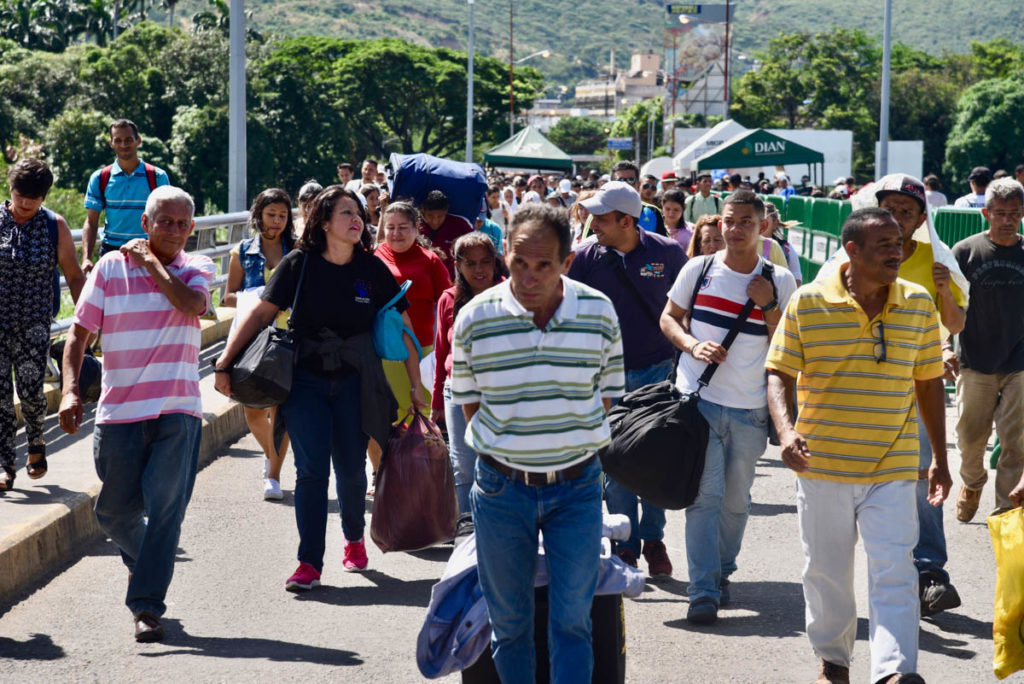 Solidarity with the Venezuelan People, part two
(This is a second flyer I wrote for the Dan Kovalik event. It's probably more useful in that it has bullet points and works for concision, but that would be a judgment others would have to make. I tried to avoid redundancies, but there may be some. Here it is, in any case.)
Many of us hoped that the Bolivarian process begun by the late Hugo Chávez would bring development, prosperity, equality of wealth, opportunity and power to Venezuelans. Here's some information to consider as we evaluate whether the last 20 years have fulfilled those hopes. Much of the information comes from the United Nations Human Rights report on Venezuela prepared under the direction of UN Office of the High Commissioner for Human Rights (OHCR) Michelle Bachelet, former socialist president of Chile and survivor of torture under Pinochet dictatorship.
The UN Human Rights Report on Venezuela[1] "highlights patterns of violations directly and indirectly affecting all human rights – civil, political, economic, social and cultural."
The minimum wage and many pensions are set at between $3.55-$7.00 per month, covering only 4.7% of the basic food basket so most Venezuelans interviewed at only once or twice per day. In 2017 74% Venezuelans lost on average 11 kilos of weigh compared to losing 8 kilos the year before. Currently 90% of Venezuelans live in poverty, with 60% waking up hungry.[2] The government CLAP programs only provide food erratically, and often only to its followers.
The UN report says "hyperinflation and economic contraction, economic and social policies adopted over the past decade have undermined food production and distribution systems," direct results of government economic policies, and not due to "economic sabotage" or "imperialist intervention." Again, the report: "The economy of Venezuela, particularly its oil industry and food production systems, were already in crisis before any sectoral sanctions were imposed."
Government policy of cutting imports to pay Wall Street external debts and printing money to cover domestic obligations has led to scarcity, shortages, inflation expected to top 10 million percent in 2019, and an economy expected to have shrunk by 2/3 by 2021—it shrank 1/3 between 2013-2017 and by 18% in 2018 alone.[3]
The UN report describes the "right to health in Venezuela" as "dire." Hospitals are in shambles[4], often left without electricity, running water, medicines, gloves and other necessities. The much-touted Barrio Adentros have mostly closed and once eliminated diseases like measles and malaria, have returned as epidemics. This, according to the UN report, is a result of the "government's failure to fulfill its core obligations;" sanctions, at most, have "exacerbated" the problems.[5]
The education system is "in danger of collapse," [6] with classrooms "nearly empty."[7] In 2016 half of Venezuela's children were eating only one or two meals per day, making it very difficult for them to attend school.[8]
The situation of women is worsening. With "lack of access to all types of contraceptives" and "restrictive legislation on abortion" women have had to resort to unsafe abortions that cause 20% of maternal deaths. Women also reportedly spend upwards of ten hours daily in lines waiting to get food for their families.
The most disturbing revelations in the UN Report concern repression, which Venezuela had not suffered since the dictatorships that ended over 60 years ago. As the government attempts to impose its narrative on the people, there have been "dozens of print media closed and the Government shut down radio stations and banned television channels." Journalists have been detained and driven into exile by harsh censorship laws. Dozens have been detained and charged simply for anti-government opinions expressed on social media and the country has been in a "state of exception" since 2016.
And the state-sponsored violence has grown, unofficially by means of paramilitary ("colectivos") and the official Special Action Forces (FAES) who, along with other military and police have been responsible for 1/3 of the nation's murders: by the government's own figures 5,287 people were killed by security forces in 2018 alone for "resistance to authority" (although the NGO Venezuelan Observatory of Violence put the number at 7,523, accounting for half the country's murders). Commenting on this, the UN report said the "OCHR is concerned the authorities may be using FAES and other security forces as an instrument to instil fear in the population and to maintain social control." Security forces like FAES are now operating like death squads in the country.[9]
People in Venezuela desperately want a change of government but the electoral system, like every other branch of government except the legislative, is controlled by the chavistas. Obviously, as David Smilde from Washington Office on Latin America points out, the "May 2018 election" that gave Maduro a second term, "was rigged." Smilde goes on to ask, "How else could a leader with a 21 percent approval rating win 68 percent of the vote?"[10] Under such conditions, free elections are impossible, but while a military intervention by the United States would fix nothing and worsen everything, international intervention is critical. That's why solidarity activists everywhere need to reexamine their stance toward the government and people of Venezuela and ask themselves which side they're on. And if they have any doubts what that means, they should ask a Venezuelan.[11]
(Notes available as links at www.cliftonross.com)

---
[1] Advance Unedited Report archived at https://reliefweb.int/report/venezuela-bolivarian-republic/report-united-nations-high-commissioner-human-rights-situation
[2] https://www.reuters.com/article/us-venezuela-food/venezuelans-report-big-weight-losses-in-2017-as-hunger-hits-idUSKCN1G52HA
[3] https://www.aljazeera.com/news/2019/02/brought-venezuela-economy-ruin-190201152238535.html
[4] https://www.nytimes.com/2016/05/16/world/americas/dying-infants-and-no-medicine-inside-venezuelas-failing-hospitals.html
[5] https://www.brookings.edu/research/revisiting-the-evidence-impact-of-the-2017-sanctions-on-venezuela/
[6] https://theirworld.org/news/venezuela-crisis-damages-education-system-children-out-of-school
[7] https://www.reuters.com/article/us-venezuela-schools/classrooms-near-empty-as-school-starts-in-crisis-stricken-venezuela-idUSKCN1LX2C7
[8] https://www.telegraph.co.uk/news/2016/09/25/half-of-venezuela-children-go-hungry/
[9] https://www.telegraph.co.uk/global-health/terror-and-security/maduros-death-squads-add-new-terrifying-layer-intimidation-violence/
[10] https://www.pri.org/stories/2019-01-08/venezuelans-want-president-maduro-out-most-would-oppose-foreign-military
[11]For more info: http://www.askavenezuelan.com/ www.heartsonvenezuela.com, www.caracaschronicles.com