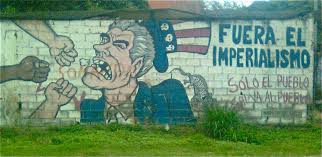 The Simplisms of the International Left
This essay (vea al español original después de la traducción) came to my attention well over a year ago and I found it so powerful that I decided to translate it. Luz Varela teaches history at the University of the Andes in Mérida, Venezuela. Like so many thoughtful academics, she's worked to refute the simplistic and incorrect assumptions of the Bolivarian Left and its allies around the world. She addresses here the belief pushed by Maduro and his regime that the "imperialist" US intends to invade Venezuela and steal her oil and other resources. And the erroneous notion that the problems in Venezuela are a result of a struggle between the "Left" and the "Right." And etc.
Her argument deserves a hearing, even if in such a small venue as my blog. Feel free to repost. I only regret that it's taken me so long to post this extraordinary essay. The Spanish original follows the translation.
How the Venezuelan Crisis wasn't Orchestrated by the Right nor the "Empire" and other Simplistic Ideas of the International Left
by Luz Varela, Universidad de los Andes
The USA didn't create the conditions for an invasion of Venezuela. It was the "revolutionary" regime that did. The great North American power has no need to invade such a conflicted Latin American country such as ours if the aim is to take control of its oil. The fact is that the USA is a very wealthy country. It has dollars, lots of dollars to pay for Venezuelan oil. And that's what it did throughout the twentieth century when it took all the oil without shooting a bullet. It did so paying market prices or by means of royalties, high royalties, paid to the [Venezuelan] State; so high, in fact, that they made Venezuela a rich country, so rich that it drew a very large number of immigrants from Europe and Latin America from the Second World War and throughout the entire century. This all happened up until our economy began to contract with the drop in the price of oil in the 1980s, forcing the country to implement neoliberal measures from 1989, through the nineties and into the first years of the new century.
The explosion of the Barroso II oil well in 1922 inaugurated the oil extraction industry in Venezuela. That process was carried out by foreign corporations but neither in its beginnings, nor later, throughout the twentieth century, did the wells nor the oil reserves come to belong to the "empire." As a result of a constitutional disposition inherited from Spanish law, all the wealth of the subsoil has historically been property of the State and this, throughout the twentieth century, made it impossible to sell, burden, donate or in any way turn over that wealth to private parties. Yet oil could be exploited through oil concessions. Nevertheless, there was as yet no industry of which anyone might take control. The foreign capitalists had to build up that industry through concessions granted by the State that allowed them to explore, extract, produce and dispose of that oil.
The concessions, on the other hand, were granted for a limited time. Moreover, Venezuelan oil laws began raising taxes and royalties until the 1940s when a fifty-fifty rate was approved, giving the State 50% of the profits oil companies made from sales. That is to say, Venezuela came to see half of the profits produced by an industry for which it had no responsibilities, but many rights. We had, then, foreign companies putting up the capital, assuming the risks, paying wages and the expenses of infrastructure, reinvesting, paying extremely high taxes and still making huge profits. (Invasion? For what?)
After the enormous rise in the price of oil in 1974, Carlos Andrés Pérez (CAP), the Social Democratic president of Venezuela, nationalized the oil industry on January 1, 1976, pushing forth the reversion of all concessions scheduled for 1983 and reserving for the nation the extraordinary profits that would otherwise have gone to the foreign corporations. And on the infrastructure of the expropriated industry he founded PDVSA (Petróleos de Venezuela, SA). CAP also nationalized SIDOR (Orinoco Steel, or Siderúrgica de Orinoco C.A.), putting in the hands of that company the management of the so-called "Basic Industries" of Guayana that produced iron and aluminum. (Was there, by the way, a hint of an invasion given these nationalizations?). And so we have since the 1970s Venezuela directly in charge of the production of its oil, with PDVSA in the 1990s coming to be one of the 500 most powerful companies in the world. At the same time it continued to supply oil needed by the USA at market prices.
On the other hand, it's necessary to clarify the issue of "nationalization of oil" that Chávez undertook. In the 1990s, after a large national debate, new concessions were granted for the Orinoco Oil Belt, the exploitation for which became very costly to PDVSA. During his rule, in 2007, with great publicity and fanfare, the comandante [Chávez] expropriated the oil companies of the Belt so as to later discreetly and quietly turn them over—along with much more—to other foreign companies. It was all a propaganda piece that hid the oil concessions he made to his preferred countries that Chávez considered "friendly." It was also a scam trapping those who believed in the defense of Venezuelan sovereignty implicit in the presumed nationalization.
Nor in the twenty-first century does the United States have any need to invade Venezuela to "take" its oil, above all because it has begun to daily produce in its own territory such a quantity of oil that it has no need of ours (in Alaska alone they've discovered oil reserves that are possibly greater than Venezuela's, aside from the fact that studies on non-fossil-based energy resources lead to the conclusion that there will soon be a great diminishment of the need for the use of fossil fuels). In fact, a key medium-term security objective outlined as North American policy, is to cut back on purchases of foreign oil and thus avoid the risks of blockades or pressures that affect energy stability.
On the other hand, since capitalism functions by maximizing profits and minimizing costs, what sense would it make for the US to engage in a conflict to take our oil (or any other asset) for which it has always paid for at market prices? Moreover, at prices that are infinitely less than an armed invasion would cost. But the simplistic analysis based on a general theory of Latin America which doesn't account for national particularities and, above all, is ignorant of the history of Venezuela, the plans outlined for United States oil policy (and also ignores notions of basic economics) insists on the idea that the "gringos" want to take our wealth. And certainly, they've always done so, but paying for it with dollars! But that's why throughout the twentieth century Venezuela was a rich and prosperous country with ample resources at its disposal to fully develop itself, economically and otherwise. This resulted in, among other things, the construction of a national electoral system, aqueducts, highways and airports, theaters, museums and universities, schools and hospitals, and social housing projects. All this to the point that the government was criticized for being paternalistic. In sum, in the twentieth century the Venezuelan state used the "imperialist" money coming in from oil sales to build up the national infrastructure that the "revolutionary" regime that came to power in 1999 would inherit.
Many of those who put out their opinions about Venezuela base them on a simplistic narrative formed from ahistorical generalizations. Such simplisms allowed the "comandante" [Chávez] to deceive the international left with his discourse, allowing them to interpret Venezuelan history according to their theories or beliefs and, possibly, on the basis of their own national experience, but not according to the facts and the historical processes of Venezuela. For the most part, the history of Venezuela is unknown, and so many uncritically accept the narrative of the regime. And so, for instance, this narrative omits the concession, under murky conditions and without approval of the National Assembly, of large areas of the Venezuelan territory in the so-called Arco Minero (Mining Arc), the exploitation of which is seriously affecting local indigenous communities and destroying our ecological reserves. Moreover, these concessions represent the looting of the nation, given the secrecy around the contracts of the ceded territories.
In Venezuela there is no struggle between a right and a left. It's a battle between civil society and the military; between an institutional opposition and organized crime that has taken over the fountain of the wealth of the country. Ironically, that which then-retired Lieutenant Colonel Chávez decried as a national reality when he came to power as president in 1999 was paradoxically created as a result of his administration: A majority of poor, malnourished, emaciated Venezuelans with a public health system in ruins that condemns to death those who unable to purchase, in dollars on the black market, medicines and other medical supplies for surgical operation or other emergency medical treatment—and at the same time, other routine treatments are available only with great difficulty. The majority of Venezuelans at best can dispose of twenty dollars per month while medical products for treatment can easily pass a thousand dollars!
That's just the beginning of the crisis Venezuela is living through. The State only with great difficulty supplies hospitals with basic needs; at present it's unable even to provide them with quality electrical generators to reestablish electrical service which is constantly failing, impacting patients undergoing surgery and those connected to intensive care or life-support systems. But it should be remembered that nearly all the public hospitals were built before the "revolution," with the exception of the Infant Cardiological of Caracas, which today is in a lamentable state. That hospital was opened by Chávez, along with hundreds of Integral Diagnostic Centers (CDIs). The CDIs are staffed with integral Cuban "doctors" and Venezuelans trained by Cubans, and only offer primary care, for which they are equipped. But they don't have adequate qualified staff or facilities that allow them to undertake even minor surgery. Much less are they able to deal with serious emergencies such as wounds, heart-attacks, births, etc.
Presently Venezuelan hospitals are in stark deterioration and ruination, without an adequate budget for maintenance and with an infrastructure built more than 20 years ago to serve an infinitely smaller population. When the regime obtains some credit to equip them, the distribution networks, controlled by the military, divert the medical items to the black market, that is, to the "bachaqueo" (trafficking) of medicines. But the "bachaqueo" is not the product of any economic war. It is savage capitalism in action and not the work of traditional entrepreneurs. The controls, regulations and expropriations carried out by the regime have led to the creation of parallel marketing networks at the top of which are high-ranking officials, who control and distribute on the black market the essential goods for Venezuelans (such as food and medicines, among others).
Venezuelans not only suffer serious problems of food and health. The educational system has been almost destroyed despite the creation of an endless number of universities. If it weren't real it would be laughable because a university is not simply created by decree, by the will, or less, overnight. Meanwhile, the national public and autonomous universities (free since 1958, with the birth of the democratic system) have been shoved into a corner because they refused to bend before power. They did not do it even in the sixties when they gave shelter to the militants of the PCV and the MIR – parties of the Venezuelan left – in their process of armed struggle, or later, after the Pacification of the irregular groups (1969). In fact, during the decade of the seventies many guerrillas were incorporated as university professors. Some even entered the National Congress as deputies after clean and transparent elections (not like those that have been taking place in Venezuela for 15 years, with a Chavez CNE, "committed to the revolution," that is, bent on power). Our universities were never "right-wing" or "fascist," and this was so much the case that, for example, they also welcomed many professors exiled from the dictatorships of the Southern Cone.
But when the Lieutenant Colonel Chávez came to power in 1999, he tried to bring the universities "under order" by directing academic policies. Before such attempts the universities defended their autonomy, their plurality and their freedom. Hence arose the need for the regime to create its own "universities" and, according to its notion of democracy, to financially choke those it qualified as "universities at the service of the oligarchy." Let me say thay I don't understand how a public university can be considered an "oligarch," unless the defense of academic freedom is considered as oligarchical, that and insisting on maintaining a high level of academic excellence.
The so-called revolution can naturally claim that it has solved the food, health and educational problems in Venezuela. There aren't, in fact, that many social achievements to defend, unless it can be understood as a revolutionary advance the delivery (irregular in time and quantities delivered) of a box or bag with some food, to a sector of the population. The recipients of such gifts, in counterpart to such a "benefit" must be "loyal" and march with a red shirt and a sign where and when required; vote in the continuous and repeated "electoral processes" and on condition that the voter show a photograph of the voting ballot stub or the stub itself, after scanning the "carnet de la patria" in the so-called "red spots"* located openly right next to the electoral centers—and in violation of the current electoral law.
If any sector has seized the wealth of Venezuela it has to be the elite formed after 1999, which clearly operates as an oligarchy. This "Boligarchy" has rapaciously seized our wealth and has also allowed the Cubans, Chinese and Russians to do so in return for political, military and/or financial support. Venezuela is now truly ruined but this is an achievement of the "revolutionary" elite. The amount of money they have taken from our country is immeasurable. I can't write that number because new figures are constantly coming to light and my capacity for mathematical abstraction is hampered by numbers of such magnitude. Venezuelans and the informed international community are aware of the robbery perpetrated by these criminals because the display of their wealth is public and notorious. Suffice to keep track of the news about the freezing of personal accounts and of the vast wealth that Venezuelan officials and military officers own in foreign countries. These include bank accounts with extraordinary amounts: millions, hundreds of millions and even billions of dollars.
While it's true that there has always been corruption, what happened in Venezuela in the last 20 years is unique in history. Never had an elite stolen in the magnitude nor with the rapacity and cruelty with which the present government has. A painful example is the case of the Bolichicos, who cheated the nation with the purchase in Russia and China of power plants used to provide and protect hospitals when faults occur in the electricity service. Many have died when these plants stop working at critical moments of surgical operations and in intensive care rooms. Did no one in the regime know that the Bolichicos bought what was effectively scrap metal that they delivered as if it were first-class power plants? It should be noted that Bolichicos do not belong to any "rancid Venezuelan oligarchy." They are a group of young people, children and friends of high officials and military linked to power, who did what they pleased with impunity. In that style, many more cases of corruption could be enumerated. Ad Infinitum.
When the lieutenant colonel came to power in Venezuela, the price of oil was around US $15 per barrel. Even so, the country functioned and PDVSA was very prosperous. But it was autonomous, something that the new president didn't like. As luck would have it, Chávez saw the price of oil rise in an increasing and accelerated form during his term, surpassing US $110 per barrel which, we all know, the "empire" paid accordingly and without any need for an invasion. The oil bonanza allowed the "comandante" Chávez to act as a mixture of Sheikh and Jesus Christ, handing out money by the handfuls, without reinvesting, and without thinking about saving for lean times. And finally, despite his anti-imperialist preaching, he never stopped selling oil to the "evil empire."
In principle, it wasn't easy for Chávez to freely spend the funds of PDVSA. The company was autonomous and by operating according to the principles of economy, it refused to deliver the money in an uncontrolled manner. That's why Chávez decided to force the situation. Thus, the first company in the country, our goose that lays the golden eggs, was forced to expel its most capable professionals—who were not coincidentally also critics of the regime. Approximately 20 thousand of 28 thousand employees of the company were dismissed in 2002 and from that moment on, the company began to work like the property of the president. In addition, PDVSA was now burdened by the hiring of more than 120 thousand employees whose professional merits, in most cases, were no more than their cards as "revolutionaries." Subsequently, the price of oil fell in 2009 (although it did not reach the low figures of the 1990s). The price of oil recovered in 2011, but never again would the Venezuelan oil industry. Of more than three million five hundred thousand barrels a day that it produced at the beginning of this century, today it produces around one million five hundred. Even such figures are often questioned by OPEC, an organization that has come to demand from the regime transparency in its numbers, since the ones it offers are no longer reliable.
It should also be pointed out that in recent years, and without any interruption, the US has been buying half a million barrels a day from PDVSA and, apparently, until recently, it was the only customer that paid regularly. It should also be noted that, in spite of the sanctions of 2017 that prohibited the purchase of a new issue of Venezuelan debt, there has been no "blockade" of our oil. It was not until January 28, 2019, with the freezing of PDVSA's assets, that the US government applied economic measures that affected Venezuelan oil business activity. Until now, the "blockade" has only been a romantic excuse that fed the epic revolutionary narrative. On the other hand, other countries such as Russia and China are receiving oil in payment for debts previously incurred by the regime. That is, for years these criminals have been borrowing on future oil sales, compromising our present, and something completely illegal according to our oil laws.
PDVSA has been effectively dismantled and is now on the verge of bankruptcy. Its profits, instead of being reinvested, were used for years to satiate Chávez's desire to offer extravagant gifts, buy consciences and exert geopolitical influence with no thought for the future, and all with the gloss of "social justice." Even before 2010, Venezuela was forced into debt to continue these wasteful practices of the "revolutionary" party. But today the regime has no one to borrow from, because it has now given all that it could of our wealth to a long list of "anti-imperialist" countries, among them: Cuba, Russia, China, Iran and Turkey, as a guarantee of large loans and various illegally arranged deals—illegal since none had not been approved by the National Assembly. Hence the major crisis of today. Apparently, at present a good part of our oil assets is in the hands of the Chinese and the Russians who are collecting in this way on the billions of dollars in debt contracted with them. The opacity with which the regime handles these deals prevents us from knowing in particular the size of the debts contracted and the conditions in which they were arranged, since it usually negotiates as if it operated with its own funds and not with public monies. But oil experts monitor and report the situation continuously, so anyone interested in the subject can check it online.
In Venezuela, as part of the transition, we will have to invest enormous resources and hard work to reactivate our industries—and not just the oil industry. In fact, most of Venezuela's companies have been dismantled due to controls, regulations, invasions and expropriations. The cattle ranches and agricultural estates, the manufacturing and commercial enterprises and all other productive organizations that have fallen into the hands of the State are now in ruins. The regime can hardly blame the "right-wing sectors" for waging an economic war, when it controls all political powers, with the exception of the National Assembly, which it does not recognize but opposes with a parallel power it created, that is, the National Constituent Assembly. But the Maduro regime also controls the media, the Armed Forces, the Central Bank (after eliminating its autonomy) and manages, in principle, the nation's oil and mineral wealth. In addition, as mentioned earlier, most of the "productive" industries, import companies, and almost all the marketing channels are in the hands of the State, the "Bolivarian" workers, the communes or the military.
And so I see as very simplistic the analysis of the Venezuelan situation based on belief—and furthermore, a belief without a historical basis—that the Venezuelan crisis can be understood from the desire of the US and the right-wing to seize our wealth. In regards to this point, it's critical to recall that among the criticisms that liberals make of the Venezuelan opposition is to point out that their leaders are part of social democracy or the center-left as members of parties like Voluntad Popular, which includes militants such as Leopoldo López and Juan Guaidó. Nor are those "distressed" by the scenario of an "invasion" by the US, apparently bothered in the least by seeing the repressive forces of the regime used against the Venezuelan people; neither do they stand in solidarity with the hundreds of political prisoners tortured, the persecuted, the murdered, the exiles, or with the millions of Venezuelan emigrants who have been forced to flee their own country. It seems that the supporters of the regime can only "see" the plundering of our wealth, but clearly their vision is out of focus. They can't seem to see who the real looters of Venezuela are.
We Venezuelans have to affirm, ironically, that neither the Chinese nor the Russians are doing tropical tourism in Venezuela. On the contrary, after the looting and dismantling of PDVSA by the "comandante" and his "work team," our main industry, one of the richest and most powerful in the world in the 1990s, owned by the State and supported by the nation, may never return to our hands. Now, 43 years after the oil nationalization, it's possible that the "gringos" will return, but they will do so by sharing spaces with the Russians and the Chinese. After the "revolution," not only have we not reached a supposed "true Independence;" now we have to pay our soul to the Chinese and a part of our spirit to the Russians. And it seems that now, for the first time in Venezuelan history, the ownership of our wealth (and we are not referring only to oil or the oil industry) is in the hands of foreign companies. It is probable, yes, that we have already lost a good part of PDVSA, but this has happened as part of a process created by the "revolutionary" regime, a regime that has delivered (and stolen as never before in the history of Latin American countries) our national wealth. If the "gringos" were to enter our country, as the Cubans, the Russians and the Chinese already quietly have, it won't be the result of a plan orchestrated by the "empire" but rather because of the folly manifested in the mismanagement of a corrupt, repressive and irresponsible regime.
Luz Varela.
University of the Andes, History Department
Mérida, Venezuela – January 2019
revised in February 2019
Translated by Clifton Ross

---
* "carnets de la patria," literally "fatherland cards," is a government identity card that functions as a mechanism of social control as this Reuters report points out. The "red spots" are government scanning stations set up next to polls during elections where voters can scan their carnets to prove they voted in hopes of getting cash prizes or bags of food.
De cómo la crisis en Venezuela no ha sido orquestada por la derecha ni por "el imperio" y de otros simplismos
Luz Varela
Universidad de Los Andes
EE.UU. no creó las condiciones para invadir a Venezuela. Las creó el régimen "revolucionario". La potencia norteamericana no requiere invadir a un país latinoamericano si el propósito es "apoderarse" de su petróleo. Sucede que EE.UU. es un país muy rico, que tiene dólares, muchos dólares para pagar por el oro negro. Así lo hizo durante todo el siglo XX, cuando se lo quedó, sin necesidad de invadirnos, al establecer una firme tradición de reciprocidad comercial con Venezuela, especialmente, desde los años 40 cuando el petróleo venezolano alimentó la maquinaria bélica con la que enfrentó a los fascismos de la SGM. Como parte de esta relación, EEUU ha pagado a Venezuela por el petróleo con regalías de explotación y altos impuestos o comprándolo a precios de mercado. Esta relación convirtió, a su vez, a Venezuela en un país rico; tan rico que atrajo una altísima tasa de inmigrantes europeos y latinoamericanos desde la SGM hasta los años '80, cuando empezó a contraerse nuestra economía tras la caída de los precios del petróleo y por cuyo motivo el país se vio empujado hacía políticas neoliberales desde 1989 hasta los primeros años del nuevo siglo, cuando nuevamente empezó a subir el precio del petróleo.
La explosión del pozo petrolero Barroso II, en 1922, dio inicio a la industria de la extracción petrolera en Venezuela a través de empresas extranjeras, pero nunca, en el siglo XX, ni los pozos ni las reservas petroleras llegaron a pertenecer al "imperio". Por disposición constitucional heredada de la legislación hispana, toda la riqueza del subsuelo ha sido, históricamente, propiedad del Estado y éste, durante el siglo XX, estuvo imposibilitado de vender, gravar, donar o entregar, de forma alguna, tales riquezas a manos privadas. Pero sí podía permitir la explotación petrolera a través de concesiones petroleras. No había, sin embargo, industria de la cual "apoderarse". Los capitalistas extranjeros tuvieron que levantar dicha industria a partir de las concesiones otorgadas por el Estado que les permitió explorar, extraer, producir y comercializar el petróleo. Las concesiones, por otra parte, eran otorgadas por un tiempo limitado. Además, la legislación petrolera venezolana fue elevando las regalías e impuestos petroleros hasta aprobar, en los años '40, el fifty-fifty, que exigía para el Estado un mínimo del 50% de las ganancias que devengaban las empresas petroleras. Quiere decir que Venezuela llegó a percibir más de la mitad de la ganancia producida por una industria sobre la cual no tenía la mayor responsabilidad pero sí muchos derechos. Tenemos, entonces, que las empresas extranjeras ponían el capital, asumían los riesgos, pagaban la mano de obra, costeaban la infraestructura, reinvertían, pagaban altísimos impuestos y, aun así, obtenían ingentes ganancias. (¿Invasión? ¿Para qué?)
Tras la formidable subida del precio del petróleo en 1974, Carlos Andrés Pérez, presidente socialdemócrata, nacionalizó la industria petrolera el 1ro de enero de 1976, adelantando así la reversión de las concesiones pautada para 1983 y rescatando para la nación una ganancia extraordinaria que de otra forma se habrían quedado las empresas. Y sobre la infraestructura de la industria expropiada se fundó PDVSA. CAP también nacionalizó SIDOR, concentrando en la empresa el manejo de las industrias básicas de Guayana que producían hierro y aluminio. (¿Hubo acaso algún conato de invasión ante tales nacionalizaciones?). Tenemos entonces que desde los años '70, Venezuela se encargó directamente de la producción de su petróleo, llegando a ser PDVSA, durante los años '90, una de las 500 empresas más poderosas del mundo. Mientras, seguía suministrando el petróleo que necesitaba USA a precios de mercado. En contraste, es necesario aclarar el tema de la "nacionalización petrolera" realizada por el comandante Chávez. En los años '90, después de un amplio debate nacional, se otorgaron nuevas concesiones en la Franja Petrolífera del Orinoco, cuya explotación resultaba muy costosa para PDVSA. Durante su mandato, en 2007, con gran publicidad y fanfarria, el comandante expropió a las compañías petroleras de la Franja, para luego, discrecional y calladamente, entregar las mismas concesiones ‒ y muchas más ‒ a otras empresas extranjeras. Fue todo un montaje propagandístico que ocultó la entrega de concesiones petroleras a empresas de su preferencia, procedentes de naciones que el presidente consideraba como "amigas". También fue una estafa para quienes creyeron en la defensa de la soberanía venezolana implícita en la supuesta nacionalización.
En el siglo XXI, tampoco necesita EEUU invadir a Venezuela para "quedarse" con su petróleo, sobre todo desde que ha empezado a producir en su propio territorio tal cantidad de barriles diarios que podría prescindir del nuestro (solamente en Alaska se han descubierto reservas petroleras que posiblemente superen a las venezolanas, aparte de que los estudios sobre recursos energéticos no fósiles hacen suponer que, próximamente, se verá disminuido a gran escala el uso de combustibles fósiles). De hecho, un objetivo clave para su seguridad, trazado por la política norteamericana a mediano plazo, es prescindir de las compras de petróleo de países extranjeros para no correr el riesgo de bloqueos o presiones que pongan en entredicho su estabilidad energética.
Por otra parte, el capitalismo funciona según la máxima de la mayor ganancia y el menor costo posible, entonces ¿qué sentido hay en que EEUU fragüe un conflicto para quedarse con nuestro petróleo (o cualquier otra riqueza) por la cual ha pagado siempre a precio de mercado? Un precio que es infinitamente menor del que costaría una invasión armada. Pero el simplismo del análisis basado en una teoría general de América Latina que no mira las particularidades nacionales y, sobre todo, desconoce la historia de Venezuela, los planes trazados por la política petrolera estadounidense (e, incluso, ignora nociones básicas de economía) insiste en el tema de que los "gringos" se quieren quedar con nuestra riqueza. ¡Siempre lo han hecho, pero pagando en dólares! Por tan razón, Venezuela fue, durante el siglo XX, un país rico y próspero, disponiendo de amplios recursos para impulsar su desarrollo económico e integral, expresado, entre muchos otros proyectos, en la construcción del sistema eléctrico nacional, de acueductos, autopistas y aeropuertos, teatros, museos y universidades, escuelas y hospitales, y también viviendas de interés social. (Al punto de que se le caracterizaba, de manera crítica, por ser un Estado paternalista). En fin, en el siglo XX, el Estado venezolano levantó con fondos petroleros (provenientes del "imperio"), la infraestructura nacional que heredó el régimen "revolucionario" en 1999.
Muchos de quienes emiten opinión sobre Venezuela lo hacen a partir de una historia simplista que lleva a generalizaciones ahistóricas. Tal simplismo permitió al comandante engañar con su discurso a la izquierda internacional, la cual ha interpretado la historia venezolana según sus teorías (o creencias) y, posiblemente, en base a su propia experiencia nacional, pero no según los hechos y los procesos históricos venezolanos. Por lo general, esta historia es desconocida y, por ello, muchos aceptan, acríticamente, la narrativa del régimen. Esta narrativa, por otra parte, omite la entrega en condiciones poco claras y sin aprobación de la Asamblea Nacional, de grandes extensiones del territorio venezolano en el llamado Arco Minero, cuya explotación está afectando de gravedad a las comunidades indígenas y destruyendo nuestras reservas ecológicas, además de representar un saqueo a la nación, por el secretismo en los contratos de entrega de los territorios mineros.
En Venezuela no hay una lucha entre derecha e izquierda. Es un enfrentamiento entre civilismo y militarismo, entre una oposición institucional y una delincuencia organizada que se ha apoderado de las riquezas de la nación. La que el entonces teniente coronel retirado denunciaba como realidad nacional cuando llegó a la presidencia en 1999, es, paradójicamente, la que ha sido creada como resultado de su gestión: Una mayoría de venezolanos empobrecidos, enflaquecidos, mal alimentados, con un sistema de salud público en ruinas que condena a muerte a quien no pueda comprar en dólares en el mercado negro los medicamentos y otros insumos que necesita para una operación quirúrgica o para realizar cualquier tratamiento médico de emergencia. (De igual modo, con mucha dificultad se puede acceder a tratamientos rutinarios). La mayoría de los venezolanos como mucho dispone de 20 dólares al mes; ¡pero los productos médicos para una intervención sobrepasan los mil dólares! De allí la catástrofe humanitaria que se vive en Venezuela. Al Estado ya se le dificulta dotar a los hospitales de los insumos básicos; ni siquiera puede dotarlos, en estos momentos, con plantas eléctricas de calidad para restablecer la electricidad, que falla constantemente, afectando a los pacientes durante las cirugías o a quienes están conectados en cuidados intensivos. (Por cierto, casi todos los hospitales públicos fueron construidos antes de la "revolución", con la excepción del Cardiológico Infantil de Caracas -el que hoy se encuentra en un estado lamentable- que fue inaugurado por el comandante, y de los cientos de CDI, también creados por él. Estos últimos son Centros de Diagnóstico Integral atendidos por "médicos" integrales cubanos (o venezolanos que han ido formando al efecto) que solo prestan atención primaria, para lo cual tienen el necesario equipo e instrumental. Pero no están dotados con los equipos adecuados ni con el personal médico calificado que les permita realizar, siquiera, alguna cirugía menor. No pueden, aún menos, atender emergencias de gravedad, heridos, infartados, partos, etc.).
Actualmente los hospitales venezolanos están en franco deterioro, derruidos, sin presupuesto adecuado para su mantenimiento y con una infraestructura construida hace más de 20 años para atender a una población infinitamente menor. Cuando el régimen consigue algún crédito para dotarlos, las redes de distribución, controladas por militares, desvían los rubros médicos hacía el mercado negro; esto es: hacía el "bachaqueo" de medicinas. Pero el "bachaqueo" no es producto de guerra económica alguna. Es capitalismo salvaje en acción y no, precisamente, de la mano de empresarios tradicionales. Los controles, regulaciones y expropiaciones llevados a cabo por el régimen han propiciado la creación de redes paralelas de comercialización en cuyo vértice superior se sitúan oficiales de alto rango, quienes controlan y distribuyen en el mercado negro los bienes imprescindibles para los venezolanos (como alimentos y medicinas, entre otros).
Los venezolanos no solo sufrimos graves problemas de alimentación y de salud. El sistema educativo ha sido casi destruido pese a la creación de un número incontable de universidades. Algo que, de no ser grave, sería risible porque una universidad no se crea simplemente por decreto, por voluntarismo, ni menos, de la noche a la mañana. Mientras, las universidades nacionales públicas y autónomas (gratuitas desde 1958, con el nacimiento del sistema democrático) han sido arrinconadas porque nunca se plegaron al poder. No lo hicieron ni en los años sesenta cuando más bien dieron cobijo a los militantes del PCV y del MIR ‒ partidos de la izquierda venezolana ‒ en su proceso de lucha armada, ni más tarde, tras la Pacificación de los grupos irregulares (1969). De hecho, durante la década de los años setenta muchos guerrilleros fueron incorporados como profesores universitarios. Incluso, algunos entraron al Congreso Nacional como diputados tras elecciones limpias y transparentes (no como las que se vienen realizando en Venezuela desde hace 15 años, con un CNE chavista, "comprometido con la revolución"; o sea, plegado al poder). Nuestras universidades nunca fueron ni de "derecha" ni "fascistas", y esto es tan cierto que, por ejemplo, dieron cabida también a muchos profesores exiliados de las dictaduras del Cono Sur. Pero cuando el teniente coronel llegó al poder en 1999, intentó "poner orden" en las universidades esperando orientar las políticas académicas, ante lo cual aquellas defendieron su autonomía, su pluralidad y su libertad. De allí la necesidad que tuvo el régimen de crear sus propias "universidades" y, según su noción de democracia, de ahorcar financieramente a las que calificó como "universidades al servicio de la oligarquía". (No entiendo cómo pueda ser considerada como oligarca una universidad pública. A menos que se considere como oligarca la defensa de la libertad académica, además del hecho de insistir en mantener un alto nivel de exigencia).
La mal llamada revolución en absoluto puede alegar que ha resuelto el problema alimenticio, de salud o educativo en Venezuela. No hay precisamente muchos logros sociales que defender. A menos que pueda entenderse como un avance revolucionario, la entrega (irregular en el tiempo y en las cantidades entregadas) de una caja o una bolsa con algunos alimentos, a un sector de la población. Los receptores de tales dádivas, en contraparte a tal "beneficio" deben ser "leales" y marchar con una camisa roja; firmar en donde haga falta; votar en los continuos y reiterados "procesos electorales", pero a condición de mostrar el votante una fotografía del talón de votación o el propio talón, tras escanear el carnet de la patria en los llamados "puntos rojos" ubicados, abiertamente, en las adyacencias de los centros electorales (violando la ley electoral vigente).
Si algún sector se ha apoderado de la riqueza de Venezuela es la élite formada a partir de 1999, la cual sí funge como oligarquía. Sí se ha apoderado rapazmente de nuestra riqueza y ha permitido que los cubanos, chinos y rusos también lo hagan a cambio de apoyo político, militar y/o financiero. Venezuela está ahora arruinada, es verdad, pero este es un logro de la élite "revolucionaria". La cantidad de dinero que han sacado de nuestro país es inconmensurable. No puedo escribirla pues siempre salen a la luz cifras nuevas y mi capacidad de abstracción matemática se anula ante números de tal magnitud. Los venezolanos y la comunidad internacional informada son conscientes del robo perpetrado por estos delincuentes pues la exhibición de su riqueza es pública y notoria. Basta con hacer un seguimiento de las noticias que informan sobre el congelamiento de las cuentas personales y de los bienes que funcionarios y militares venezolanos poseen en países extranjeros. Son cuentas con montos extraordinarios: millones, cientos de millones y hasta miles de millones de dólares. Es cierto que ante había corrupción pero lo sucedido en Venezuela en los últimos 20 años es único en la historia. Nunca una élite había robado en las magnitudes ni con la rapacidad y crueldad con la que ellos lo han hecho. Un doloroso ejemplo es el caso de los bolichicos, quienes estafaron a la nación con la compra en Rusia y China, de plantas eléctricas usadas para dotar y resguardar a los hospitales al presentarse fallas en el servicio eléctrico. Muchos han fallecido cuando estas plantas dejan de funcionar en momentos críticos de las intervenciones quirúrgicas y en las salas de cuidados intensivos. ¿Nadie en el régimen supo que los bolichicos compraron chatarra que entregaron como si fuesen plantas eléctricas de primera? Es de advertir que los bolichicos no pertenecen a ninguna "rancia oligarquía venezolana". Son un grupo de jóvenes, hijos y amigos de altos funcionarios y militares vinculados con el poder, que hicieron de las suyas impunemente. Por ese estilo podrían referirse muchos casos más de corrupción. Ad Infinitum.
Cuando el teniente coronel llegó al poder en Venezuela, el precio del petróleo se situaba alrededor de los 15 dólares. Aun así el país funcionaba y PDVSA era muy próspera. Pero era autónoma, algo que no gustaba al nuevo presidente quien tuvo la suerte de que el petróleo subiera de precio deforma creciente y acelerada durante su mandato, sobrepasando los 110 dólares por barril (que, sabemos, los pagó consecuentemente el "imperio", sin necesidad de invadir). La bonanza petrolera le permitió al comandante actuar a modo de una mezcla de jeque y Jesucristo, repartiendo dinero a manos llenas, sin hacer reinversión, y sin pensar en ahorrar para cuando llegara el tiempo de las vacas flacas. Y a pesar de su prédica antiimperialista, nunca dejó de venderle petróleo al "malvado imperio".
En principio, no le fue fácil al comandante hacerse de forma discrecional con los fondos de PDVSA. La empresa era autónoma y al funcionar según los principios de la economía, se negaba a entregar el dinero de forma descontrolada. Por este motivo el comandante decidió forzar la situación. Así, la primera empresa del país, nuestra gallina de los huevos de oro, expulsó a sus profesionales más capaces (pero críticos con el régimen). Aproximadamente 20 mil de 28 mil empleados que tenía la empresa fueron despedidos en 2002. A partir de ese momento, la empresa pasó a funcionar como propiedad del presidente; además, se vio desbordada por la contratación de más de 120 mil empleados cuyo mérito profesional, en la mayoría de los casos, era su carnet revolucionario. Posteriormente, el precio del petróleo bajó en 2009 (aunque no llegó a las cifras tan bajas de los años '90). El barril se recuperó en 2011, pero nunca más pudo hacerlo la industria petrolera venezolana. De más de tres millones quinientos mil barriles diarios que producía a comienzos del siglo, actualmente produce alrededor de un millón quinientos. Incluso, tales cifras suelen ser cuestionadas por la OPEP, organización que ha llegado a exigirle al régimen transparencia en sus números pues los que aporta ya no le resultan confiables.
También es necesario aclarar que en los últimos años, y sin ninguna interrupción, EEUU ha venido comprando medio millón de barriles diarios a PDVSA y, al parecer, hasta hace poco, era el único cliente que pagaba regularmente. (Pues a pesar de las sanciones de 2017 que prohibían la compra de nueva emisión de deuda venezolana, no ha habido "bloqueo" hacía nuestro petróleo. No fue hasta el 28 de enero de 2019, con la congelación de los activos de PDVSA, que el gobierno norteamericano aplicó medidas económicas que afectan la actividad comercial petrolera venezolana. Hasta ahora, el "bloqueo" solo era una romántica excusa que alimentaba la narrativa épica revolucionaria). Por otra parte, otros países como Rusia y China están recibiendo el petróleo en pago a deudas contraídas anteriormente por el régimen. Esto es, desde hace años estos delincuentes han estado vendiendo el petróleo a futuro, comprometiendo nuestro presente. Algo completamente ilegal que contraviene nuestra legislación petrolera.
PDVSA prácticamente ha sido desmantelada y se encuentra al borde de la ruina. Sus ganancias, en lugar de reinvertirse, se emplearon durante años para saciar las ansias de protagonismo del comandante, para regalar a manos llenas, comprar conciencias e influencia geopolítica pero sin pensar mucho en el futuro, y, recubriéndose, todo el proceso, con el manto de la justicia social. Desde antes de 2010, Venezuela se vio obligada a endeudarse para seguir con la fiesta revolucionaria. Pero ‒hoy día‒ ya el régimen no tiene quien le dé prestado, pues hasta el momento ha entregado todo lo que ha podido de nuestra riqueza a una larga lista de países "no imperialistas", entre ellos: Cuba, Rusia, China, Irán y Turquía, como garantía de grandes préstamos y de diversos tratos concertados ilegalmente, puesto que no han sido aprobados por la Asamblea Nacional. De allí la crisis mayor. Al parecer, actualmente, buena parte de nuestros activos petroleros está en manos de los chinos y de los rusos quienes se están cobrando de esta forma la mil millonaria deuda contraída con ellos. La opacidad con que el régimen maneja estos tratos nos impide saber en concreto el tamaño de las deudas contraídas y las condiciones en que fueron concertadas, pues suele negociar como si operara con fondos propios y no con dineros públicos. Pero los expertos petroleros hacen seguimiento y denuncian la situación continuamente, por lo cual, quien esté interesado en el tema puede consultarlo por internet.
En Venezuela, como parte de la transición habrá que invertir mucho, habrá que trabajar mucho para reactivar nuestro parque industrial, no solamente la industria petrolera. De hecho, ha sido desmantelada la mayor parte de las empresas venezolanas por los controles, regulaciones, invasiones y expropiaciones. Las haciendas de ganado y las fincas agrícolas, las empresas manufactureras o las comerciales y cualquiera otra organización productiva, caída en manos del Estado, está en situación de ruina. Mal puede culpar el régimen a "los sectores derecha" de que estos le hacen una guerra económica, cuando no sólo controla todos los poderes políticos (con excepción de la Asamblea Nacional, a la que desconoce, oponiéndole un poder paralelo a hechura suya: la Asamblea Nacional Constituyente); también controla los medios de comunicación, las FFAA, el Banco Central (al cual eliminó su autonomía) y maneja, en principio, las riquezas petroleras y minerales de la nación. Además, como se asomó antes, la mayor parte de las industrias "productivas" y compañías importadoras, y casi todos los canales de comercialización están en manos del Estado, de los trabajadores "bolivarianos", de las comunas o de los militares. De modo que entiendo como muy elemental el análisis de la situación venezolana asentado en la creencia (porque es una creencia sin asidero histórico) de que la crisis venezolana puede entenderse a partir del afán de EEUU y de la derecha por apoderarse de nuestras riquezas. (Con respecto a esto, además, es necesario recordar que entre las críticas que hacen los liberales a la oposición venezolana es señalar a sus líderes como parte de la socialdemocracia o la centroizquierda, en partidos tales como Voluntad Popular, del cual son militantes Leopoldo López y Juan Guaidó). Tampoco se entiende y, sobre todo, duele, que aquellos quienes dicen "angustiarse" por el escenario de una "invasión" por parte de los EEUU, nada dicen sobre las fuerzas represivas empleadas por el régimen sobre el pueblo venezolano, ni se solidarizan con los cientos de presos políticos torturados, los perseguidos, los asesinados, los exiliados, ni con los millones de emigrantes venezolanos que se han visto obligados a huir de su propio país. Pareciera que sólo "pueden ver" la entrega de nuestras riquezas, pero, obviamente, su visión está desenfocada. No logran ver quiénes son los verdaderos saqueadores de Venezuela.
Los venezolanos afirmamos, de forma irónica, que ni los chinos ni los rusos están haciendo turismo tropical en Venezuela. Por el contrario, tras el saqueo y desmantelamiento de PDVSA por parte del comandante y de su "equipo de trabajo", nuestra industria principal, una de las más ricas y poderosas del mundo en los años '90, propiedad del Estado y sustento de la nación, es posible que no regrese a nuestras manos. Ahora, 43 años después de la nacionalización petrolera, es posible que vuelvan los "gringos", pero lo harán compartiendo espacios con los rusos y los chinos. Tras la "revolución", no solo no hemos alcanzamos la supuesta "verdadera Independencia". Ahora hay que pagarles hasta el alma a los chinos y una parte de nuestro espíritu a los rusos. Y es que al parecer, ahora, por primera vez en la historia venezolana, la propiedad de nuestras riquezas (y no nos referimos solamente al petróleo o a la industria petrolera) está en manos de empresas extranjeras.Es probable, sí, que hayamos perdido ya buena parte de PDVSA, pero esto ha sucedido como parte de un proceso concretado por el régimen "revolucionario". Un régimen que ha entregado (y robado como nunca en la historia de los países latinoamericanos) nuestras riquezas nacionales. Si los "gringos" llegaran a entrar a nuestro país, como ya lo hicieron, calladamente, los cubanos, los rusos y los chinos será, no por un plan orquestado por el "imperio" sino por la estulticia concretada en la mala gestión de un régimen corrupto, represivo y hambreador.
Luz Varela.
Universidad de Los Andes, Escuela de Historia
Mérida, Venezuela – Enero de 2019
(Revisado en los primeros días de Febrero)