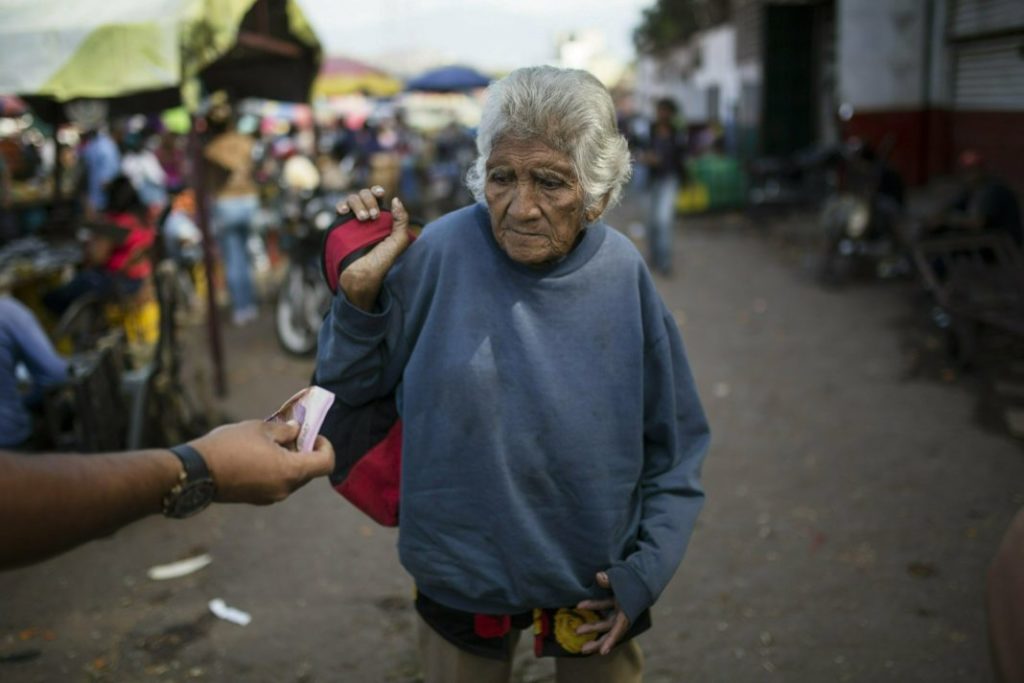 Venezuela and the Ethics of Reciprocity
The new CEPR (Center for Economic and Policy Research) report, written by Mark Weisbrot and Jeffrey Sachs was little more than a desperate attempt to whitewash the crimes of the Venezuelan government and deflect blame for the humanitarian catastrophe. It failed.
Even though the report, entitled "Economic Sanctions as Collective Punishment: The Case of Venezuela," made a big splash on Democracy Now and other major left and liberal media outlets, and Weisbrot and Sachs did their best to shift responsibility for the problems in Venezuela onto the shoulders of the US with its sanctions, their argument didn't stand up. First Ricardo Hausmann and Frank Muci took them on, then I went at them in an article entitled "Pandering to the Imperial Left" published May 9 at Caracas Chronicles.
A friend wrote to me after my article appeared and mentioned that there had been a typo in my headline. Surely I had meant "anti-imperial" left. Well, as a matter of fact, no. I meant "imperial left." I was referring to that left in the US that believes it has the right to occupy the Venezuelan embassy to keep out the interim government's representatives that they don't like and reserve that space for a government that the overwhelming majority of the Venezuelan people have rejected, a government that has destroyed the country with its corrupt ineptitude. It's that left that thinks it knows what the Venezuelans "need" and it's willing to tell them what it is, and support policies that the Venezuelans clearly reject because, after all, they're convinced those policies are "good for them." Like the right wing imperialists, then, these left wing imperialists are motivated by an arrogant self-righteousness that comes down to just another version of the "White Man's Burden." But I repeat myself: I've already written all this in a recent piece I did on the Solidarity movement, published at Caracas Chronicles. I think there I referred to these people as the "colonialist left," but there it is: they're colonialist, imperialist and reactionary leftists, and entirely unaware of the long shadow they cast. I've written about them here and here and probably a few other places.
I have only one objective in my writing on Venezuela these days: to be part of the movement fighting for a return to democracy in Venezuela. I only want to see free and fair elections in the country so Venezuelans can decide for themselves who they want to govern them. I operate under the belief that anyone who is struggling in solidarity with a people should apply a very simple rule to what they're doing, guided by the ethic of reciprocity: don't do to, or wish for others what you wouldn't want done to, or wish for yourself. Does that have a familiar ring to it? It should. Wherever you come from in the world, and wherever you go, you'll eventually come across that idea. If you live by it, you'll come and go in peace. And if you don't, you'll find life to be a perpetual struggle.
In the case of Venezuela, it should be obvious what this means. If you don't want to live under a corrupt dictatorship, don't work in solidarity with one in another country. Can you hear that, you, occupying the embassy in D.C.? And you, working to cover up the crimes of a foreign government, how do you feel about Donald Trump covering up his own crimes?
The imperial left is out of touch with its shadow, which explains its hypocrisy. It doesn't see any of its own inconsistencies, because it doesn't see the deep connections between the Maduro and the Trump presidencies. It's blinded by the superficial "left-right" distinctions so it doesn't see the same corrupt, authoritarian, arbitrary, anti-democratic, personalist, deceptive and ultimately elitist qualities that characterize both regimes. This left can't see the inconsistency in advocating for one while opposing the other, that is, wishing for Venezuelans to suffer terribly under the one while refusing to submit to an even milder form of the same thing here where they live.
What is "solidarity" without reciprocity? An empty word.
(Go to Pandering to the Imperial Left at Caracas Chronicles)