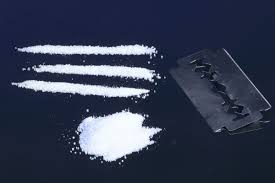 Venezuela's Economic Transition: from Oil to Cocaine
With oil production in freefall the failed government (mafia) of Nicolas Maduro has evidently decided to put more energy into the drug trade. No doubt he's simply following the lead of the Cuban government which, according to a US intelligence report, has found the business to be a lucrative source of funds since the late 1970s. It might even be called "portfolio diversification" except that in the case of Venezuela it's a really only a simple shift from one mono-product economy to another.
If you believe Spanish journalist Emili Blasco, Venezuelan government trafficking in cocaine and its close relationship with the FARC guerrilla in Colombia goes back at least to 2006 or 2007, in the peak years of Chávez's rule. Emili opens his book, Bumerán Chávez, with Chávez personally overseeing a deal with members of the FARC of guns for drugs. Bumerán Chávez was based on the testimony of Chávez's trusted bodyguard, Captain Leamsy Salazar, who witnessed the deal and some eight or nine years later defected to the US, but only after having put in nearly two years as a bodyguard of Diosdado Cabello, Number Two in Venezuela, and accused head of the Cartel de los Soles.
Now CNN has come out with an in-depth report that confirms and expands on Blasco's book of revelations (You can also read a review of the CNN report at Caracas Chronicles). Much of the news is based on testimony of Venezuelan military defectors. I wrote about Hugo "El Pollo" Carvajal, who may be the most important source of information, but now there are reports that Juan Carlos López Severn, former bodyguard and escort of Diosdado Cabello is in custody of, and cooperating with, the DEA in New York.
The conviction and sentencing of Efraín Antonio Campo Flores and Francisco Flores de Freitas in New York was the confirmation of the involvement in drug trafficking of Venezuela's "First Family." The "narcosobrinos" (narco nephews) were more than nephews, having been raised by First Lady Celia Flores.
No doubt there's much more information to come that will lead to indictments of Venezuelan government officials as more "rats leave the sinking ship" of Venezuela and swim into the welcoming nets of the DEA.