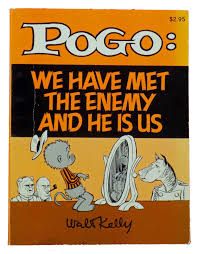 We have met the Enemy: Part 1
The recent blitz of lies and manipulation in the Left media during the April 30th uprising in Venezuela was overwhelming, making it nearly impossible to address in detail. From the center all the way over to the far left people decried a "coup" that some extremists went so far as to claim was "plotted so carefully in the war rooms of the White House, Pentagon and CIA." Even leftist organizations whose main focus is supposedly objectivity in reporting went off the rails on this one.
There was the report, for example, from FAIR (Fairness and Accuracy in Reporting), whose motto is "Challenging media bias since 1986." FAIR published the report from Alan MacLeod who begins his utterly biased article by referring to the "conservative opposition" and a "Washington-backed self-appointed president Juan Guaidó" who are trying to "overthrow the democratically-elected Maduro." There's so much bias in this article that we could spend a couple thousand words dissecting it, but we won't wear the reader out with that and instead just raise a few questions: Since when did social democrats and democrats fighting a dictatorship become "conservatives"?  And when MacLeod mentions the opposition's supporters in Washington, why doesn't he go on to mention Maduro's supporters: China, Russia, Turkey, Cuba, all populist or communist and simple authoritarians? And why only mention "Washington" and not include all the other liberal democracies who see Guaidó as interim president, like Canada, and, among other liberal democracies, the EU countries and the EU in its entirety? And as for that "self-appointed" bit, would MacLeod refer to Nancy Pelosi as a "self-appointed president" if she were to follow constitutional process in the case of an impeachment of president and vice president? And why would MacLeod refer to Maduro as "democratically elected" when the entire electoral process that has delivered him a second term was marred by fraud?
We'll let FAIR's unfair, biased and inaccurate report serve as our single example of a Left that continues to value dictators and authoritarian or totalitarian movements over democrats and liberal projects. This is something Leszek Kolakowski noted in his essay, "The Heritage of the Left," when he wrote that Left intellectuals have always been drawn together by a "loathing of democratic countries" and that for them "in any conflict between a tyrannical and democratic country, the tyrants were right and democracy wrong."
There are, of course, exceptions like social democrats and social liberals, but we (and I do consider myself part of that broad sector of political thinkers) are excoriated by that anti-democratic socialist/communist left as "sell-outs" to "capitalism." Perhaps that's because unlike them, we are among those that Thomas Sowell describes as having a "tragic view of life" rather than those "anointed" whose politics is a transubstantiated religion of an apocalyptic and millenarian variety.
The view these apocalyptic leftists toward those of us on the moderate, liberal, democratic, non-collectivist left, that is, the left that has made peace with market economies, private property and other such bugaboos of the socialist/communist left, is a dead giveaway of their extremism. For them a "moderate" is pejorative, along with "middle class" and "bourgeois," all indicative of those unwilling to take up his cross and follow the working class into the Revolution. And so, in the words of Jesus, "because thou art neither hot nor cold, I will spew thee out of my mouth." Infidels, to radical believers, are potential converts to the faith, but the lukewarm, those average believers who populate the average pew in the average middle class (average) church, those are the real enemies of the radical believer, caught up in the apocalyptic fervor of the vision of the coming Kingdom of the Lord or unwilling to build the Socialist society.
Unfortunately both for the radical Christian anticipating the Second Coming of Christ and the Kingdom of the Lord, as well as for the radical socialist/communist, things have not gone well for a long time—if ever. Over two thousand years have passed since Christians began waiting for Christ to return in their lifetimes, and it appears that, by contrast with the zealous believer who has given all to Christ, the lukewarm believer, who has accommodated to the "world" and chosen the average place in an average pew in an average church for no more than an hour of religion on Sunday (or even on the two or three major religious holidays per year), that is, the middling believer with preference for the mildly average comfort that such a commitment offers, has chosen the better half. Likewise, the twentieth century is full of radical socialist/communist experiments and none but the middling ended well. We forget history at our own peril, so let me divagate here to remind our readers how the radical left's present defense of the tyranny in Venezuela is historically consistent with its stance toward the socialist/communist movements of the twentieth century.
Kolakowski writes about this Left's "misguided commitments, wrong beliefs, and false hopes" of so many to jump "from one fellow travelership to another without explanation and without thinking about the past. The Soviet Union doesn't look quite so good anymore? We have the glory of a new socialism being built in China and the immortal thoughts of Chairman Mao. Something wrong with China, too? There is Cuba, the great hope of a people fighting the imperialist dragon. Fidel also not quite perfect anymore? Then let's look for something else." And Kolakowski concludes that "there was a never-ending search for a good, noble cause, and once a good cause was abandoned for any reason it was immediately forgotten, and a new cause was found."[1]
But the way the Leftist fellow travelers abandon "a good, noble cause" is also revealing and relevant. As Dr. Kristian Niemietz writes, "as long as a socialist experiment is in its prime, its socialist credentials are rarely in doubt. As long as socialism seems to work, it is always 'real' socialism. It is only when it fails, and when it becomes an embarrassment for the socialist cause, that it is retroactively recategorised as unreal."[2]
This "retroactively recategorization" of "real socialism" as "not real" is precisely the trick socialists like Bernie Sanders, Alexandra Ocasio-Cortez and, increasingly, former Chavistas, use to maintain their identity, and their faith, as socialists and to deny the huge costs such economic systems have on societies. The costs are what we're witnessing in Venezuela today.
Kolakowski and Niemietz have accurately called the pattern of the revolutionary left in the same way that Festinger, Riecken and Shachter uncovered the results of the disconfirmed expectations of an apocalyptic UFO cult in their extraordinary study, When Prophesy Fails (full text available here). In that incident of the mid 1950s a Chicago housewife gathered a small group of followers around her with claims that she had received messages in automatic writing sessions that a great flood would inundate the world on December 21, 1954. When the prophesy of the catastrophe failed, a minority who had been dubious left the flock, while the core only became even more committed and other previous skeptics were strengthened in their faith.
No doubt we'll see the same thing occur when the Bolivarian Revolution fails. Those voices in support of Maduro and the Chavista socialist project in Venezuela will grow silent. Some will slink into the shadows without an apology or the slightest acknowledgement that they had been wrong in supporting a cause that wrecked a nation and destroyed the hopes of a people to improve their lives. At best they will justify themselves by blaming the disaster on "imperialism" rather than the socialist system that Chávez and Maduro forced on the nation and then defended with armored vehicles, bullets, tear gas and terror. These Leftist intellectuals will not be held accountable, and they'll no doubt be abetted by liberal media like FAIR, Democracy Now! and others. A small number of them will become disillusioned with the politics of the extreme left. That's what happened to me. But a majority can be expected to move on to support other disasters-in-the-making because they'll have learned nothing since they've never had to account to anyone for their lies, cover-ups and enabling acts to back tyrants in the name of "the people."
And because they can't see what they're doing, these latter will also be utterly oblivious to how much they resemble the Republicans today who back Donald Trump as he dismantles the tattered and flimsy remnants of our democratic republic here at home. In a war both sides forget the great wisdom of that character in Walt Kelly's Pogo cartoon who appears in the midst of battle and cries out, "We have met the enemy and he is us!"
Isn't that the human condition? None of us seem capable of recognizing our shadow until it blocks the last bit of light by which we see.

---
[1] Leszek Kolakowski, Is God Happy: Selected Essays (NY: Basic Books, 2013) pgs 43-44
[2] Kristian Niemietz, Socialism: The Failed Idea That Never Dies (London Publishing Partnership. location 858, Kindle Edition.