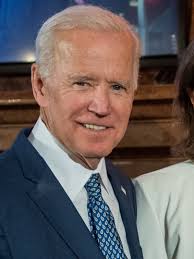 Voting the Center
I decided well over a year ago that Joe Biden would be the best candidate to run against the current occupant of the White House. I've based this understanding on what I've learned about populism through in-depth study and a close analysis of Venezuela. I couldn't support anyone who advocates for "socialism" without even recognizing the imperative to define that term in the public sphere after nearly a century of disasters that have unfolded under that banner: from National Socialism (aka Nazism) to Communism ("Real Socialism"). That was just one reason among many I couldn't support Bernie. To sum up the others: I also didn't think he could win; I didn't think he could get enough support even if he won to carry out his ambitious plans; he would have continued the Trump legacy of dividing the country and worsening the political polarization.
Who I vote for is a private matter, but I make my own decision public for a reason. I am convinced that the most serious problem facing the United States, and to some degree, the world, is climate change and the environmental crisis in its many forms. Science, informed opinions and common sense tell us that we, humans, are having a devastating effect on our world, and it has to be corrected. I'm personally skeptical that we will be able to rectify the problem given our current values, lifestyles and way of thinking. These are elements of the problem on which governments can have only limited impact: most of that work has to come from within, and among us, in our personal and collective commitments to spiritual disciplines that require us to respect the earth and that restrain our worse impulses.
Nevertheless, governments play a critical role in the process of the spiritual regeneration of society by setting limits on markets and actors within them; legislating the bounds of acceptable behavior for citizens; monitoring and correcting its own agents in those processes; educating its citizens with accurate, objective and unbiased information; and, in many, many other ways, maintaining the physical, mental, spiritual health of the citizenry in a healthy and balanced natural environment.
I think the social liberal/social democratic governments have done the best job in achieving these aims over the past century or so. When I look around the world at societies I personally would prefer to live in, I'd have to say that just about anywhere in the EU (but especially Holland and Scandinavia), Canada and New Zealand are the first places that come to mind. And among the last places on earth I'd choose to live would be those "socialist" states like North Korea, Cuba, Venezuela, and China. Those would be followed by the countries like Somalia, Iraq, Syria, Libya, Yemen and other places torn apart by civil war.
The conclusion here should be obvious. The places on earth that are most appealing—in my mind, at least —are those able to maintain a strong, sure social peace and integrity. They're socially liberal, that is, they are generous in allowing diversity and multiplicity among their various social groupings, whether those be political, religious or otherwise organized. Their governments control themselves adequately (i.e., they have few problems with corruption) and their citizens believe in their governments, in each other and society as a whole, that they are willing to contribute relatively more in taxes to ensure the well-being of everyone and the maintenance of their country's populace, infrastructure, and environment.
These are far better than the countries that only maintain their social peace by authoritarian governments through impositions of various kinds: by ideological conformity, surveillance, indoctrination, and social control of various kinds. While these have traditionally been the practices of "socialist" governments, today it's also true of the "populist" governments like Duterte's Philippines, Putin's Russia and the "illiberal outliers" of Europe in Poland, Hungary and others on the European periphery like Erdogan's Turkey.
Finally, there are the states/governments/societies in disintegration that I mentioned earlier. Over the years I've studied and come to understand, to a degree, the case of Venezuela. There, you can see the entire process of a country going from a very successful liberal democracy (1960-1980, more or less), beginning to break down (1980-2000)and beginning the transition from a "social liberal" society to a populist project of one man (1999-2013) and into the past 7 years of disintegration into near civil war. Is that an exaggeration? I don't think too many Venezuelans think so. And they might all agree that the only reason the country hasn't exploded into civil war already is due to its present dictatorship, now becoming complete with the expiring of the National Assembly's term. But its future could well become that of Somalia or Libya if Maduro is taken out and a power struggle begins.
The lessons here seem quite obvious to me. Joe Biden, in his debate debacle with Donald Trump on September 29, 2020 blurted out a truth that many of us have long recognized but which political leaders have avoided stating as bluntly as he did: Donald Trump has been "the worst president in history." In addition to being a complete sociopath and moral degenerate, he is a compulsive liar, and, worst of all, he is absolutely incapable of setting any kind of intelligent political agenda for the country. He has managed to gain power, like all the other populist leaders around the world, by dividing the country. And in doing so, he has set the country on course for one of two futures: an authoritarian government or a society in disintegration.
People like Joe Biden or Henrique Capriles in Venezuela, recognize the need to return to liberal institutionality and values. They work to heal divisions that threaten the very life of the countries they work to represent. I no longer have faith in Left or Right parties to heal divisions, but rather support people who understand that the only way to move forward in a society is by uniting all forces in the common project of healing and regeneration: of the society, the institutions and the physical environment.
I hope people who support moderate, centrist and liberal forces around the world will come out to demonstrate, vote and struggle for positive change that includes everyone in that space in the middle between Left and Right where most of us live.